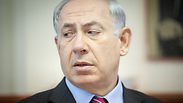 Netanyahu
Photo: Emil Suliman
Israel insists Iran be denied uranium enrichment capabilities under a potentially imminent nuclear deal, a demand that risks opening a new Israeli-United States rift, officials said on Wednesday.

The dispute, a major topic for a visit to Jerusalem by US National Security Adviser Susan Rice on Wednesday and Thursday, appeared part of Israeli efforts to weigh in on world powers' difficult talks with Tehran before a July 20 date for a deal.

Though not at the table, Israel matters in Western capitals given its fear of a nuclear-armed Iran and threats to attack its arch-foe preemptively if it deem diplomacy a dead end.

Related stories:

A November interim accord easing sanctions on Iran made clear Washington and five other world powers would let it enrich uranium on a reduced scale under a final agreement distancing it from the means to make a bomb. But Israel wants the Iranians to be stripped of all disputed nuclear projects.

"Iran seeks to destroy the State of Israel and builds atomic bombs for that purpose. I want to reiterate Israel's position. We think that Iran must not have the capacity to make atomic bombs," Prime Minister Benjamin Netanyahu said at a meeting with a visiting Friends of the Israel Defense Forces delegation on Wednesday.

"Iran today has thousands of centrifuges, thousands of kilograms of enriched uranium to make a bomb. A bad deal would let them keep those capacities. It's better to have no deal than a bad deal," he added.

Highly enriched uranium can fuel nuclear warheads. Iran says it seeks peaceful atomic energy and medical isotopes only.

"Are we going to agree on enrichment? No," an Israeli government adviser briefed on Rice's visit told Reuters.

"We would be happy to see July 20 pass without a deal," the adviser said, adding that there was worry in Israel that Obama, facing possible gains by Republican rivals in the mid-term US elections of November, might be tempted to accommodate Iran now.

This view seems unlikely to go down well with US President Barack Obama, a second-term Democrat who has sparred in the past with Netanyahu, over strategies for Iran and peacemaking with the Palestinians.
'Intensive consultations'
The adviser described Israel's hard line as sincere but declarative, rather than a prelude to a new Middle East war, and a signal to supporters in the US Congress to keep up pressure on Obama not to compromise with Iran.

Rice tweeted that she was "looking forward to robust and intensive consultations" in Israel and that the allies' security cooperation "has never been stronger". On Tuesday, White House spokesman Jay Carney said her visit to Israel would not produce any new developments regarding Iran.

Russia, which is among the six world powers negotiating with Iran, said parts of the final agreement could be agreed at a scheduled meeting in Vienna next week.

Some Western diplomats and experts privately acknowledge forcing Iran to halt all uranium enrichment activities, as stipulated in UN Security Council resolutions, is unrealistic given the scale of the program and resistance from Tehran.

Speaking on condition of anonymity, a US official said Rice came to Israel "representing the six powers", adding: "The question of enrichment, how many (uranium purification) centrifuges Iran should keep, is the big one."

The US official voiced confidence that a deal with Iran, if achieved, would prevent its heavy water facility at Arak from producing significant amounts of plutonium - another fissile material that could be used for nuclear warheads.

While that would be welcomed by the Israelis, their main focus has long been Iran's build-up of uranium stocks which might allow it to refine enough fuel for a bomb in short order.

Israel was angered last month when US Secretary of State John Kerry suggested cautious openness to a nuclear deal that would keep Iran 6 to 12 months from the weapons threshold.

A former Israeli security official said Tehran would be five years away from the threshold if the demand for a full Iranian nuclear rollback were met. But the Israeli advisor said the government had not presented any such formulation.

"I've not seen or heard anything about what our 'acceptable' threshold would be," the adviser said. "But I do know that less than a year would be unacceptable."

Ynetnews contributed to this report.