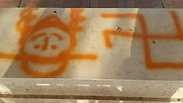 'Price tag' - swastika and an image of a haredi man
Photo: Shaar Menashe Regional Council
A swastika and an image of a haredi man were spray-painted on the walls of the Menashe Regional Council's cemetery near Hadera on Wednesday.

Another swastika was spray-painted on a bus station leading to Harish settlement, also a part of Menashe Regional Council. The council made a formal complaint to the police.

Related stories:

Six months ago, three vehicles were set on fire and abusive graffiti was scrawled in the Arab village Umm al-Qutuf, council officials said. Following these events, the council installed detection and identification means.

Following the discovery of the "price tag" attacks, the council's residents and public officials called the head of the council, Ilan Sadeh, to condemn the act.


In response to the acts, Sadeh said that "this is a despicable act, one of several that occurred in the area lately. We condemn these acts and call on the Israeli government to declare 'price tags' attacks - that could escalate to situation in the area and in the country - as acts of terror.

"This will allow security forces to act against the instigators and perpetrators with all the means at their disposal. We at the Menashe Regional Council will continue to respect each other, live in co-existence and educate our children to maintain this co-existence and nurture it."

An emergency meeting was held on Wednesday at the Justice Ministry on the "price tag" phenomenon, especially against Arabs in the north of Israel. Internal Security Minister Yitzhak Aharonovitch said that "the 'price tag' phenomenon is very dangerous to the co-existence between Jews and Arabs and we need to eradicate it.

"The police and Shin Bet are coordinated to the last detail and I can assure you there is a great progress in several 'price tag' investigations that I am not at liberty to elaborate on at the moment. The severity of this phenomenon can really damage the already strained relationship between Jews and Arabs and we will do whatever we can not to unravel the texture between Jews and Arabs. "

Attorney General Yehuda Weinstein also condemned the acts: "This phenomenon is severe and grave and the law enforcement system will do everything to make it disappear.

"The task at hand is everything but simple, and we already declared 'price tag' as an illegal act. Should admissible evidence be presented, I will personally oversee the indictments and we will not hesitate to appeal until suitable punishment will be given," Weinstein added.