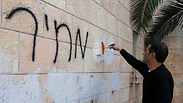 'Price tag' graffiti in Jerusalem
Photo: Reuters
Vandals have defaced a church in Jerusalem just a few weeks before Pope Francis visits the Holy Land, Israeli police said Friday.

Police spokesman Micky Rosenfeld said "anti-Christian graffiti" was found on the outside wall of the church near Jerusalem's Old City. Rosenfeld said police were investigating.

It is the latest in a series of "price tag" attacks believed to be the work of a small group of Jewish extremists to protest what they perceive as the Israeli government's pro-Palestinian policies.

Mosques, churches, dovish Israeli groups and even Israeli military bases have been targeted by the vandals in recent years. The fringe group and their actions have been widely condemned.

Related stories:

Justice Minister Tzipi Livni, who headed the Israeli team in peace talks with the Palestinians, said the extremists "want to prevent us from living here in any reasonable way." In an interview Friday with Army Radio, she described the extremists as a small, "hard-core group that doesn't accept the rule of law."

"Politically, they are the ones that will prevent us from reaching a peace agreement," she said.

The vandals recently have scribbled anti-Arab and anti-Christian graffiti on several Christian holy sites and properties, including an attack this week on the Vatican's Notre Dame Center in Jerusalem.

The attacks prompted the Roman Catholic official in charge of the Vatican's properties in the Holy Land on Thursday to urge Israel to safeguard Christian holy sites ahead of a visit by Pope Francis at the end of May.

Israel's internal security agency says it fears there could be similar attacks as the pope's visit approaches.