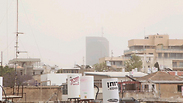 Air pollution in Tel Aviv
Photo: Motti Kimchi
Israel is one of the countries with the highest level of air pollution in the world, according to a report released Wednesday by the World Health Organization (WHO).

The report, which surveyed 1,600 cities in 91 countries, revealed that the world's air quality is deteriorating.

Green Progress

Environmental Protection Ministry launches list of air, sea, sewerage polluting factories in Israel for public review, awareness.

Israel ranked 12th in levels of PM10, tiny particles of solid or liquid floating in the atmosphere which affect our health.

According to the report, Ashkelon is the most polluted city in Israel in terms of air quality with a PM10 level of 75, followed by Modiin (70), Beersheba and Beit Shemesh (68), Tel Aviv (67), Rehovot (63) and Ashdod (62). The lowest air pollution levels were found in Haifa and Hadera: 45 and 46, respectively.

For the sake of comparison, Berlin and Paris recorded a PM10 level of only 24, and London the situation is even better in London (22).

The country with the worst air pollution in the world is Afghanistan, where the average levels of polluted particles measured was 334, followed by Iran (320), India (200), Bangladesh, Senegal, Mongolia and Mauritius.

According to the report, about half of the world's urban population being monitored is exposed to air pollution that is at least 2.5 times higher than the levels WHO recommends – putting those people at additional risk of serious, long-term health problems.
Air pollution causes death of 3.7 million a year
In most cities where there is enough data to compare the situation today with previous years, air pollution is getting worse, the report added. Many factors contribute to this increase, including reliance on fossil fuels such as coal fired power plants, dependence on private transport motor vehicles, inefficient use of energy in buildings, and the use of biomass for cooking and heating.

Some cities are making notable improvements, however, "demonstrating that air quality can be improved by implementing policy measures such as banning the use of coal for 'space heating' in buildings, using renewable or 'clean' fuels for electricity production, and improving efficiency of motor vehicle engines," the WHO experts said.

In April 2014, WHO issued new information estimating that outdoor air pollution was responsible for the deaths of some 3.7 million people under the age of 60 in 2012. The Organization also emphasized that indoor and outdoor air pollution combined are among the largest risks to health worldwide.

The "clean air law," which took effect in Israel in 2011, obligates the government to approve a multiannual national plan which will provide a systematic solution for the air pollution problem in the country. The plan has been completed and distributed by the Environmental Protection Ministry, but the NIS 690 million ($200 million) needed for its implementation have yet to be found.