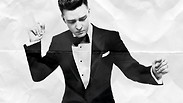 Justin Timberlake. Hummus, fruit and alcohol
PR photo
If you happen to be friends with Justin Timberlake, you'll be able to drink Jamaican beer with him and share a plate of hummus during his visit to Israel, as a special machine blows cold air with drops of water on your sweaty face.

The American pop star will land in Israel later this month for his May 28 performance at Tel Aviv's Yarkon Park, and Yedioth Ahronoth has obtained his list of demands which includes a platter of hummus, after Timberlake was instructed not to leave Israel without tasting one of its national dishes.

Back to the 1990s

World's most successful boy to perform at Raanana Amphitheater on July 29.

The singer has asked the show's producers to place two folding padded chairs inside his room behind the scenes and four outside the room. In addition to two makeup tables, a makeup mirror and accessories, he also wants two large tables for the catering, a television stereo system, a "quiet fridge," a blender for protein drinks, a microwave, a kettle, an espresso machine and a special coffee table, as well as a sofa which "must be clean," a dining table with four matching chairs, and machines which blow cold air and drops of water in order to help cool Timberlake and his entourage in the Tel Aviv heart.

As far as food is concerned, Timberlake wants cases of Coca-Cola Zero and Dr. Pepper delivered to his room at the new Ritz-Carlton Hotel in Herzliya, as well as Jamaican beer, a variety of chocolate and strawberry Twizzlers. He would also like to see a bowl of fruit with melon, pineapple, kiwi and berries on the table.

The list of demands further includes peanut butter, jars of honey, lemons, different types of potato chips, strawberry and grape jam, a loaf of white bread and a loaf of whole-wheat bread. He also needs 24 glasses, which must be either blue or red, a small box of ice, heat-resistant cups with lids and handles, as well as Campari, high-quality red wine, tequila, whiskey, vodka, Stella beer and light beers, and also a selection of good local beers.

And after all that, he'll also sing. We promise.