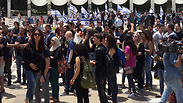 Counter-protest at Tel Aviv University
Photo: Shahar Chai
Some 300 students marked Nakba Day on Sunday with a demonstration at Tel Aviv University. Arab students carried pictures of relatives and read testimonies of Palestinians who were forced from their homes and villages during Israel's War of Independence.

"The tragedy of the Palestinian people began in '48 and continues to this day," the students said.

One demonstrator, a communications and law student, said that "in order for Arabs and Jews to live together we must recognize the tragedy of our people, our oppression, our expulsion. It cannot be denied."

The student stressed that "this day is even more important considering the current wave of hate crimes we have been witnessing."

Louis, one of the organizers of the demonstration added that the purpose of the protest was to raise awareness of Nakba Day in the public discourse. "The Nakba still continues," he said.

Related stories:

Across from the demonstrators were a few Jewish students who were protesting against marking Nakba Day. One of the counter-protesters accused the demonstrators of grieving over Israel's creation: "Let us remember the facts: Arabs rejects the partition plan, they started the war, and they are still trying to destroy us. We are here to fight for the truth."

Another protester, Lizzie, said "we are here to stand against the delegitimization of the State of Israel. There is an historic truth: Seven Arab armies fought against Israel in '48, some 800,000 Arab Jews experienced pogroms."

Lizzie stressed the importance of Israel's victory: "If the situation had been different and they had won – God forbid – would we have been allowed to stand here and say we have been oppressed? They would have slaughtered us."

Louis was not concerned by the counter-protesters. "It is their right to demonstrate. There is no doubt that there are a number of narratives to what happened in '48. That makes sense. They have a right to talk and we have that right as well," he said.