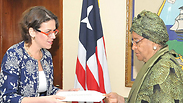 Israeli Ambassador Sharon Bar-li and Liberia's President Ellen Johnson Sirleaf
Israel's ambassador to Ghana, Sharon Bar-li, received a special gift from a German man: the signpost of the Israeli embassy in Liberia that was closed down in 1983. The sign was given to the German man by the last Israeli ambassador to Liberia, after the embassy was forced to shut its gates due to the civil war that broke out in the country.
For three decades, the signpost was hanged on a side wall at a small pub in Monrovia, the capital of Liberia. An Israeli citizen who has been living in Monrovia for many years noticed the signpost with the Israeli state emblem and Hebrew writing, and asked the pub's owner how he ended up with the signpost.
Related stories:
The owner told the Israeli that during the civil war he was managing a hotel in the city center and the ambassador gave him the embassy's sign for safekeep until the war is over.
The Israeli ambassador in Ghana, who is also responsible for the Liberia-Israeli relations, arrived in Liberia for the first time last week to present her letter of credence to Liberia's president, and Noble Prize winner, Ellen Johnson Sirleaf.
The Israeli took advantage of ambassador Bar-li's visit and took her to meet the pub owner who gave her the old, peeling signpost with a bullet hole on its side, a testimony of the passing years and hardships of the west African country.
Golda Meir – The tribe's queen mother
A long-lasting friendship exists between the two countries. Prof. Yekutiel Gershoni, a researcher from the Department of Middle Eastern and African History at Tel Aviv University, said there is a connection between the Lovers of Zion movement to the success of the back-to-Africa movement, which led to the establishment of Liberia.
Liberia was the first independent African country that was established by slaves freed from the United States and returhned to Africa's west coast to form their own country.
The relationship between Israel and Liberia were characterized by mutual visits of high-ranked officials. The most noted visit was that of then-foreign minister Golda Meir in 1958, who was crowned "The Queen Mother" by the local GOLA tribe.
Liberia stood by Israel's side and objected to the UN decision that compared Zionism to racism. Liberia was also among the first African countries to renew its ties with Israel after the peace treaty with Egypt.