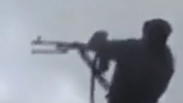 Syrian rebels in fighting
Syrian rebels claim they have managed to take over the villages of Quneitra and Qunaytirah, not far from the Israeli-Syrian border on the Golan Heights.

In light of the event, the IDF has closed the Quneitra crossing at least twice during the last week, and even UNDOF forces were not allowed to pass.

A number of radical and moderate Islamist factions have announced a new operation to retake the village along with the Quneitra crossing, the village of al-Hamidia and the a-Rawdi crossing. They claim the purpose of their operation is to remove the government siege on the villages of Jabta Elhashab and Taranja, adjacent to the border.

Rebel video from Quneitra (Video: Reuters):

In the meantime, the rebels have succeeded in causing the regime to boost its efforts to recapture Qunaytirah, like it did last July.

Related stories:

The reason for the IDF's relatively severe response was the proximity of fighting to the border and the crossing, including live rounds being fired at Assad's forces.

IDF forces patrolling the borders have raised their level of preparedness each time either rebel or government forces amass near the border in an attempt to retaliate at the other, like in this video published by the Jumat Beit Al Maqdas al Islami (Organization for the Islamic Temple) which presents the battle over Qunaytirah.

In the video published on the group's facebook page, the organization claimed they were aided by the Araya al-Jihad (Jihad Squadrons) and Harchat Mujahedeen a-Shaham (Syrian Jihad Worriers Movement).

The latter played an important role in the rebel takeover of the strategic Tel Al-Ahmar area south of Quneitra, which connects between the village and the city of Dara'a, considered to be the main scene of the fighting between rebels and Assad's forces.

During the 13 minute video, one of the groups' leaders is seen lecturing a group of warriors and explaining to them they are fulfilling the important religious commandment of "Jihad for Allah." Though he does not mention Israel, he notes the rebels' end goal is the implementation of the Sharia law – and not the ouster of Assad.

The video also presents a number of scenes from the battles themselves, in which armed rebels can be seen driving around in pickup trucks waiving the infamous black flag which reads "There is no God but Allah" – a symbol identified with the global jihad movement and al-Qaeda.

Yoav Zitun contributed to this report.