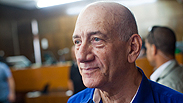 Ehud Olmert sentenced to 6 years in jail
Photo: Yotam Ronen
The sentencing Tuesday morning of Ehud Olmert may mark the first time a former Prime Minister has been punished for criminal offenses with jail time, but he is far from the first Israeli politician to meet the heavy hand of the law.

Cases such as the 'Holyland Affair', in which Olmert was convicted of accepting bribes and sentenced to six years in prison, make an embarrassing, yet hopeful statement about life in Israel.

It's obvious looking through Israel's political history that power corrupts even in the holy land, but justice is still an unyielding ideal that Israelis aren't ready to surrender.

Related Stories

The Israeli commitment to justice could also be heard in the responses of Olmert's political peers who all responded to his heavy sentencing with personal regret for Olmert the man, but strong support of the Israeli courts.

"This is the legal process which is custom in democratic states," said President Shimon Peres. "Personally, this is a sad day. But the legal process was untouched by personal interests," the president concluded.

The rule of democratic law even under regrettable and uncomfortable circumstances is indeed one of the traits that has set Israel apart since its creation and can be observed in several cases where corruption reached the highest levels of Israel's politics.

One of the most publicized and most extreme examples of Israeli politicians getting in trouble with the law was the conviction of former President Moshe Katsav who was convicted on two accounts of rape in 2011 and promptly sentenced to serve seven years in prison.

Katsav remains the only president to have been convicted for a crime and his went even further than rape including sexual harassment and obstruction of justice for doing his best to cover-up the truth.

Most politicians who found themselves in deep water however, weren't accused of anything nearly as drastic as rape. A classic example of corruption in Israeli politics is the story of Shas leader Aryeh Deri.

Deri served two years in prison after a conviction in 1997 for accepting $155,000 in bribes while serving as interior minister. He left the world of politics for 13 years, and finished his prison term before returning to lead the Shas party in October 2012.

Corruption continued to haunt Shas in 2008 when Knesset Member Shlomo Benizri was found guilty of accepting bribes among other crimes and received 18 months in jail only to have the Supreme Court increase his sentence to 4 years.

Unfortunately, politicians being caught breaking the law isn't a thing of the past and whisperings of legal issues beyond those of Olmert are prevalent in today's politics.

Current Foreign Minister Avigdor Lieberman found himself in need of a lawyer in 2001 after assaulting a 12-year-old boy. Some parents may find it in their hearts to understand Lieberman's behavior, as he attacked the boy in reaction to his son's claims that he had been hit by the teenager and two others.

After finding the boy and hitting him in the face, Lieberman took him home and threatened to come after him again if he touched his son. Courts disapproved of Lieberman's parenting and let him know that such behavior was unacceptable by charging him to pay the boy NIS 10,000 in compensations and fined him an additional NIS 7,500.

Lieberman may have also joined the ranks of corruption during his years as a politician. Claims that he accepted bribes and funds from private businesses during his time as an MK, are unconfirmed, but under investigation by police.

Accusations of questionable conduct have even been leveled at current Prime Minister Benjamin Netanyahu. Reports by Channel 10 in 2011 indicated that private businessmen had funded trips for him and his family while serving as prime minister.

The list goes on and on including dozens of additional politicians, perhaps too many for Israel's relatively short 66 years of existence. Some of the public figures accused of these crimes have been very prominent, others less so, while some crimes have been more serious than others.

Corruption and foul play have played a significant role in Israel's history and more likely than not, will continue into the future. Luckily for the Israeli people and for the country's image abroad, a robust belief in following the path of justice at every opportunity plays a part in balancing out power-bred corruption.