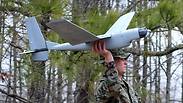 Drone before "takeoff"
Photo: IAI
Israel Aerospace Industries unveiled Tuesday the "ArrowLite", a mini drone produced for the United States Special Forces by Stark, a Mississippi-based subsidiary of the IAI, with the assistance of the American Department of Defense.

The new drone is currently on display at the Unmanned Systems exhibition in Orlando, Florida. The ArrowLite is a tactical drone that can be launched manually by a single operator in 60 to 90 seconds after the transport carry case is removed. In addition, fighters are able to carry and use the mini-UAV while on the battlefield.

Drone demonstration video (באדיבות תעשייה אווירית)

The ArrowLite weighs less than 3 kilograms (6.60 lbs) and can sustain flight for up to two hours and 45 minutes. The new model is equipped with an electro-optic payload for day and night vision operations, along with a laser pointer and an advanced communication system.

With the payload, the drone can mark tactical targets either for the forces operating the drone or for land or air forces operating in secret. The drone is adjusted to operate in harsh environmental and weather conditions and thus can be used in a variety of activities within enemy territory.

The mini-drone will not be sold to the IDF in the near future, but it is suitable for the use of many Western armies. Currently, the IDF's Artillery Corps Unit operates the "Sky Rider", a small drone used for raids, arrests and scans of relatively small areas in the area of the border with Syria and the Gaza Strip.

The IAI manufactures and develops a variety of drones, from the gigantic "Heron" drone that can reach Iran and perform a number of different missions, including intelligence collection, and up to drones in the size and shape of toy helicopters that can capture footage of small objects such as people in populated areas and perform scans between densely-packed structures.