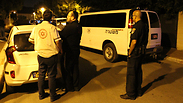 מטען חבלה ב בית ספר חטיבת ביניים ברנר פתח תקווה
Photo: Ido Erez
An explosive device was located and detonated by police sappers overnight Tuesday in the gynmasium of a high school in the central Israeli town of Petah Tikva.

"Someone crossed a line; cynical use was made of the gymnasium (but) disaster was averted," said the Israel Police's Central District Commander Bruno Stein.

Two suspects, one of them an employee at Brener Junior High School, were arrested on school grounds when they were found in possession of an explosive device and a suspected narcotic. Further arrests were expected.

The police had received a tip-off that an explosive device meant to be handed over to criminals had been placed at the school. Sniffer dogs were then sent into the building to locate the bomb.

"The immediate action taken by the unit prevented a real danger to the school's students and faculty, who were at the school without knowing that an explosive device was there," police said.

Two 31-year-old men were arrested, one a school employee suspected of arms and drugs trafficking and the other suspected of drug trafficking.

Local residents expressed shock that a bomb had been found in the town. "Had the device detonated, hundreds of people would have been killed," said one man.

This is not the first time criminals have used schools to hide weapons. Parts meant for an explosive device were found at a kindergarten in Nahariya in February 2013. A week earlier, four missiles, four RPG rockets, three grenades, firecrackers, hundreds of bullets and other explosives were found near a school in Abu Snan. A few weeks prior, an explosive device was found near kindergartens in Kfar Yona.