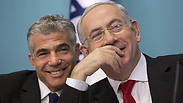 Lapid and Netanyahu
Photo: EPA
Finance Minister and Chairman of Yesh Atid, Yair Lapid, said Tuesday that he would oppose any push by Prime Minister Benjamin Netanyahu to carry out his suggestion to postpone presidential elections and eventually do away with the position all together.

Current president Shimon Peres will soon be retiring and Netanyahu's proposal to get rid of the largely ceremonial role of President has been considered to be mostly politically motivated.

"This is a change in law that shouldn't be made hastily at the last minute," said Lapid.

Related Stories

Minister Tzipi Livni also said that she opposed Netanyahu's plan among increasing opposition in the government coalition and even from within Netanyahu's own party, Likud.

Sources close to Lapid said that, "The decision on presidential elections has been under consideration for a few days already," but Lapid refused to address the issue in a Yesh Atid party meeting on Monday.

Opposition to Netanyahu's proposal began last weekend when Gideon Sa'ar, a Likud MK, said that he wouldn't be backing Netanyahu, the head of his party, in the delay of elections.

Other members of the coalition quickly caught on to the opposition and one senior coalition member said, "With all due respect to Netanyahu's ego, there's a line. He's under pressure and you see it in this weird move. If he's so troubled by Ruby Rivlin, he could find a different candidate."

Reuven 'Ruby' Rivlin is a candidate in the current presidential race after a failed run in 2007 when he pushed out of the running by Peres' growing popularity.

President Peres also expressed disappointed in Netanyahu's proposal on Monday saying that, "It is common in democratic regimes to have both a prime minister and a president; however, the Knesset will eventually have to decide its fate."