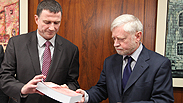 State Comptroller Joseph Shapira hands in report
Ministers in Benjamin Netanyahu's government take more overseas flights than those in the cabinets of his immediate predecessors Ariel Sharon and Ehud Olmert, State Comptroller Joseph Shapira said in a report published Wednesday afternoon.

According to the report, close to one third of the flights were funded by non-governmental organizations, which Shapira said could cause a conflict of interest.

Shapira also looked into the foreign travel by Netanyahu during his stint as finance minister under Sharon. In particular, Shapira focused on foreign trips paid for by non-governmental bodies during which Netanyahu was accompanied by family members - some 16 trips in total.

Related stories:

In December 2012, Netanyahu was given a draft report detailing all criticism directed at him personally. However, after a review by Attorney General Yehuda Weinstein, the State Comptroller's Office was unable to provide Netanyahu with the material used to form the basis of the criticism against him, thereby making it impossible for the prime minister to respond.

Shapira said therefore that the report on Netanyahu's travel as finance minister would be presented at a later date.

Regarding the rest of the minister who served in the Israeli government from March 2003 until January 2011, they took some 1,184 trips abroad as part of their official positions. At least 28 percent of all the flights were funded by non-government organizations. Some 90 over the trips were funded by foreign governments and an additional 240 were paid for by Jewish organization

During Netanyahu's previous government, from April 2009 to June 2011, the number of flights per minister was almost 60 percent greater than in the previous governments; from an average of 122 a year to 196 a year. The rise was also mirrored in regards to percentage of flights funded by non-government organizations, which was double that of the Sharon and Olmert government respectively.

The rise came despite a May 2009 promise by the government to cut by 25 percent all government related-travel expenses.

The report further found that travel expenses by ministers and deputy minister included no just flight tickets but also sleeping facility, security, food and transportation, which add tens of thousands of shekels to each flight.

The comptroller also found that these additional expenses were completely unregulated by the government, and that the minister failed to attain the needed authorization for funding their travels, two process which have allowed expenditures to rise without public oversight.

The comptroller urged minister to follow directives and attain the proper paper work, as well as urging the government to lay down regulations.