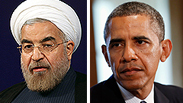 US President Barack Obama and Iran's President Hassan Rouhani
Photos: Reuters, AP
Information that Iran may have worked on designing an atomic bomb helped the West tighten sanctions on Tehran, which ultimately forced it to enter serious talks on reining in its nuclear program, US officials say.

The findings on Iran's atomic bomb aspirations came from the United Nations nuclear watchdog, the International Atomic Energy Agency.

Related stories:

But as Iran and six world powers enter a crucial stage in their efforts to hammer out a long-term deal by late July, the issue of how to handle suspicions that the Islamic Republic has carried out nuclear weapon research could emerge as a serious stumbling block.

At issue is whether to press Iran to fully admit to any such activity in the past - even if it complicates the search for a broader deal to end the nuclear dispute - or whether to focus more on ensuring that whatever happened then has since stopped.

The outcome could have far-reaching consequences for the standing of the International Atomic Energy Agency, which has long struggled to end Iranian stonewalling of its investigations and which says clarification of all its questions is vital.

It is unrealistic to expect Iran to confess to "everything they know and did", said Jim Walsh, a research associate at the Massachusetts Institute of Technology (MIT), adding that he doubted a full public "mea culpa" by the country was needed.

US officials stress, however, that the Islamic Republic must resolve IAEA concerns, suggesting that some sanctions relief could hinge on it, without spelling out exactly how this should be done in practice.

"We have been very clear that one cannot achieve a (final agreement) without Iran making progress and resolving with the IAEA the concerns about the possible military dimensions of the program," a senior US official said on Tuesday.

On a sign of the slow progress so far, a three-hour meeting between Iran and the IAEA on Monday ended without an agreement on new action to tackle its requests for access to sites, information and officials it says it needs for its inquiry.

Another such issue that Iran has so far agreed to provide information - concerning the development of detonators that can be used, among other things, to set off a nuclear device - diplomatic sources said the IAEA wanted further clarifications.

The detonator issue was part of a landmark IAEA report in November 2011 containing a trove of intelligence indicating past activity in Iran which could be applied to developing nuclear weapons, some of which it said might still be continuing.

The Vienna-based UN agency said its report was based on intelligence from more than 10 countries - believed to include the United States and Israel - as well as on its own sleuthing, and that the information was credible overall. The IAEA says it has since received new information backing up its analysis.

The allegations under IAEA scrutiny range from explosives testing to research on what experts describe as an atomic bomb trigger. The IAEA also wants Iran to address suspicions of computer modeling to calculate nuclear explosive yields, and preparatory experiments that could be useful for atomic tests.

"The pace of that resolution will have an impact on ... the relief that Iran is seeking," the official said ahead of this week's fourth round of talks in Vienna between Iran and the United States, France, Russia, China, Germany and Britain.

In a sign of the slow progress so far, a three-hour meeting between Iran and the IAEA on Monday ended without an agreement on new action to tackle its requests for access to sites, information and officials it says it needs for its inquiry.

Robert Einhorn, a former top US State Department official once involved in talks with Tehran, said: "While full and honest Iranian disclosure of past activities is undoubtedly the best result, such an outcome faces formidable obstacles."

Einhorn said that there was a "persuasive body of information" indicating that Iran, at least until 2003, pursued a program to develop a nuclear weapons capability.

"Resolution of these long-outstanding questions is essential for the agency to certify that all nuclear material in Iran is in peaceful use," ex-IAEA chief inspector Olli Heinonen said.

But two other former IAEA officials questioned its case.

The 2011 report is "mostly a rehash of many years of very old information. The analysis of that information is amateurish and flawed," Robert Kelley, a former IAEA director involved in dismantling Iraq's nuclear weapons program in the 1990s, said.

Nevertheless, he said Iran should come clean about its past activities, which he said strongly suggested it had a nuclear weapons exploration program, "if nothing more than a response to the program they knew was under way in Iraq" in 1991.

Another former senior IAEA official, Tariq Rauf, took issue with the authentication of documents the IAEA has received from outside the agency and that form the basis for its suspicions.

"It is impossible for the agency to prove the veracity of the source of the information and the information itself," Rauf, at the Stockholm International Peace Research Institute, said.
No deal better than 'bad deal'
Former Secretary of State Hillary Clinton says the United States must be "tough" and "clear-eyed" as it conducts nuclear talks with Iran. But she tells the American Jewish Committee that "no deal is better than a bad deal" with Iran.
The potential 2016 Democratic presidential candidate spoke to the American Jewish organization Wednesday as the US and its allies are in talks to reduce Iran's potential nuclear weapons-making abilities. The talks are being conducted in Vienna ahead of a July 20 target date for a deal.
Clinton says she is "personally skeptical" the Iranians will follow through on a comprehensive agreement but says the US needs to see whether diplomacy can work.
She says no agreement should be accepted that endangers the national security of Israel or the United States.