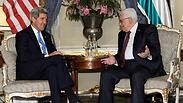 US Secretary of State John Kerry Palestinian leader Mahmoud Abbas
Photo: AP
US Secretary of State John Kerry met late Wednesday in London with Palestinian leader Mahmoud Abbas for their first face-to-face talks since the peace process collapsed last month, US officials said. Abbas also meet with British Prime Minister David Cameron.

The two were meeting in an upscale hotel for what US officials have billed as "informal" talks, seeking to downplay any hopes of a breakthrough in Kerry's ill-fated bid to reach an Israeli-Palestinian peace deal.

Related stories:

"The door remains open to the peace process. The secretary continues to believe that," a senior State Department official said before Kerry left Washington.

"But the purpose of the meeting is more about our ongoing relationship with the Palestinian people."


After weeks of angry moves by both sides, Israel suspended its participation in the talks on April 23 after Abbas announced the Palestine Liberation Organisation was seeking a unity deal with the Hamas militants who run the Gaza Strip.

Washington has branded Hamas a terrorist organisation since 1993 and has said it must recognize Israel and renounce violence.

But top US officials have already warned that a unity government including Hamas members risks seeing a freeze in millions of dollars of US aid.

Under US law it is forbidden for US funds to be given to blacklisted foreign terrorist groups.

Abbas aslo met British Prime Minister David Cameron at 10 Downing Street, and the two discussed also talked about peace process and ways of bolstering relations between the Palestinians and the UK.

Palestinian News Agency (WAFA) reported that the meeting focused on Mideast regional developments and that Abbas updated the prime minister regarding Palestinian reconciliation.