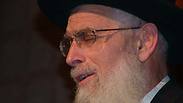 Rabbi Yaakov Ariel
Photo: Ilan Marciano
Ramat Gan's Chief Rabbi Yaakov Ariel decreed Monday that renting an apartment to a lesbian couple who plan to "live in sin" is forbidden.

Nonetheless, the rabbi added that renting an apartment to a single lesbian is allowed, on the condition she is the sole renter – but even such a case, a straight renter is preferable.

Related stories:

In the section Ask the Rabbi of the Yeshiva website, a user published the following query: "A young woman is interested in renting my property, however, she has informed me that she is in a relationship with a woman. Is there a religious prohibition preventing me from leasing the apartment in light of her relationship situation?"

Rabbi Ariel, a senior member in the religious-Zionist movement, whose name was even mentioned as a its candidate for the position of Israel's chief rabbi, responded to the question by saying that "If they are renting as a couple – don't lease. If only one of them is renting than you can lease, but if you have another offer, take it."
Justice Department mulls legislative amendment
Following the rabbi's ruling, Justice Minister Tzipi Livni instructed the ministry's legal experts to examine a legislative amendment which would define discrimination in housing as a criminal offense, punishable with up to six-month in prison.

According to Livni, discrimination is, unfortunately, a very common and difficult phenomenon, and the war against it is of great importance in a democratic country.

"The housing issue is not included in the Prohibition of Discrimination Law," said the justice minister, "but a reality where rabbis urge people not to lease apartments to non-Jewish residents or members of the gay community, require us to respond and make it clear that any type of discrimination, including in housing, is a criminal offense and a civil injustice," Livni added.

Chairwoman of the Orthodox-Jewish feminist organization Kolech (Your Voice) Ayelet Vider-Cohen said in response to the event that "the women of the LGBT community have equal right in all aspect of life – both in the religious sector and outside of it. This type of religious ruling is contrary to the Jewish world view which advocates respect for any man or woman."

Mickey Gitzin, executive-director of Israel Hofshit (Free Israel) – a group promoting religious freedom in Israel – contacted the mayor of Ramat Gan, Yisrael Zinger, Wednesday, demanding he fire the rabbi.

"Ramat Gan is a city of different groups which include a big gay community that wants to be reassured that its tax money is not used to fund the salaries of public servants who use their authority to encourage discrimination and violation of LGBT community's rights," Gitzin said.

Kobi Nachshoni, Aviel Megnazi and Gilad Morag contributed to this report