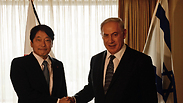 Netanyahu in Japan
Photo: GPO, Kobi Gideon
Israel isn't ready to give up on the peace process with the Palestinians despite the collapse of US brokered negotiations at the end of last April, Prime Minister Benjamin Netanyahu said in an interview with Japanese publication Mainichi Shimbun during his state visit to the country on Tuesday.

"I don't think that we should give up the hope for peace," said Netanyahu, who continued to lay out his vision for a two-state future. "The format for peace is a demilitarized Palestinian state that recognizes the Jewish state of Israel."

"That is, they have a state for their people, for their self-dertermination, and we have a state for the Jewish people - where we've been for four thousand years," he said.

Related Stories

The prime minister rejected the notion that the two-state solution was dead, leaving Israel with the a binational state that surrenders its democratic ethos.

While he stated belief that a two-state solution could still be achieved with a viable peace partner, Netanyahu said that his biggest concern was preventing the manifistation of a violent-prone Iranian puppet state on Israel's borders.

"There should be very strong demilitarization agreements to make sure that we don't ahve a repetition of what happened when we left Gaza," he said. "We left Gaza and Iran came in with Hamas and their other proxy, Islamic Jihad. And they've fired from Gaza... about 12 thousand rockets."

"I don't want a binational state, but I also don't want an Iranian state next to us," stated Netanyahu in the interview. "I don't think the status quo is desirable. I don't want it and I'm engaging in consultation with my own coalition partners and with others, to see if we have other alternatives."

He did however, lay blame on the Palestinians for the breakdown of peace talks citing their refusal to recognize Israel as a Jewish state, as well as the unity agreement signed between Fatah and Hamas, a group that has repeatedly called for Israel's destruction.

Netanyahu said that he crucial question remains if the Palestinians are, "willing, finally, to end their fantasy of eliminating the State of Israel. If they do, I think we will find a solution."

Japanese reporters also asked Netanyahu what his stance would be should Hamas agree to recognize Israel and renounce violence in order to join the peace process.

"Can you sign on the dotted line?" countered Netanyahu. "That would obviously be an entirely different situation, but unfortunately I don't see it happening. They're very ideological, very militant and very extreme, and they show no signs of such change."

The prime minister also addressed security issues in Japan's interests, including apparent cooperation between Iran and North Korea said that, "the threat could be immeasurably enhanced if there's an alliance between a nuclear-armed North Korea and a nuclear-armed Iran."

Netanyahu said that he and his Japanese counterpart had discussed how the two nations might be able to better cooperate on this issue.

"We both share this concern of these rogue states developing nuclear weapons, and we understand that because they cooperate with one another, there's no reason why we shouldn't cooperate with one another and with other states because this is of concern to many, many countries."

The 2020 Olympic Games in Tokyo were also up for discussion, particularly whether Israel would be ready to provide security knowledge, technology and apparatus as they did in the London Olympic Games and as they plan to do for the upcoming World Cup in Brazil.

"The answer... is yes," said Netanyahu. When asked if he discussed the issue with the Japanese Prime Minister Shinzō Abe, he said, "I did raise our willingness and desire to be part of the effort to give greater security for the Games and Mr. Abe has expressed his interest in exploring that."

"I think this could be a very fruitful effort, because... we've had a lot of experience and a lot of success, which we share with other countries and we're happy to do that with Japan."