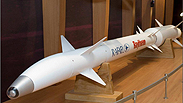 David's Sling missile defense system
Photo: Courtesy of Defense Ministry
Israel is poised to lose out on a deal valued at up to $13 billion to build a missile defense shield for Poland, a defense official said Wednesday, citing lobbying by Washington on behalf of rival US systems.
As compensation, the manufacturer of the David's Sling missile defense system may get a role in a future US-led arms sale to Warsaw, the official, who has been briefed on the competition, said on condition of anonymity.
Related stories:
"The Americans will be happy, the Poles will be happy, and there'll be something left over for us," he said.
US officials say they are supporting an American solution, but denied favoring one of the two US entrants over the other in the tender, which Poland accelerated in response to Ukraine-Russia tensions.
US executives said tensions with Moscow had heightened Poland's interest in strengthening its ties with the United States, which made it likely one of the US bids would prevail.
The disclosure came as US Defense Secretary Chuck Hagel visited Israel to discuss an alliance undergirded by extensive US aid for Israeli defense projects.
David's Sling is still at least a year away from rollout at the state-owned Rafael Advanced Defense Systems. It is designed to shoot down heavy rockets and cruise missiles using interceptor missiles produced by US Company Raytheon Co.
The involvement of US technologies gives Washington an effective veto over export of the system, which the defense official said had been quietly wielded in this case.
"There has been pressure," he said, without elaborating. "We cannot sell everything we want to."