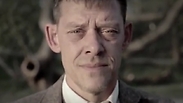 Rainer Hess didn't learn about the extent of his grandfather's involvement in the Holocaust until the age of 12, when one of his teachers told him the grim truth. Rudolf Hess had been the commander of Auschwitz concentration camp in Poland, responsible for the deaths of more than one million men, women and children.

"I knew nothing of Auschwitz, I knew nothing of my family, I only knew that my grandfather had participated in the war like thousands of others," Hess told the AFP during a recent trip to Stockholm, the Swedish capital.

Now 48 years old, Hess is at the head of a campaign fighting the rise of far-right, neo-Nazi parties in European elections due to be held later this month.

Related Stories

Run by the Social Democratic Youth of Sweden (SSU) the campaign is named, "Never forget. To vote." The SSU runs the campaign on the belief that the best way to stop the spread of far-right extremism across the continent is by speaking through the ballot box.

"The intent behind using Hess as the face of the campaign is to show that we never forget," said Gabriel Wikstrom, General Secretary of the SSU.

Despite the disapproval of some members of his family who prefer to bury the past, Rainer Hess spent over 20 years researching Nazism, and his own origins.

Rainer is the nephew of Brigitte Hess, one of Rudolf Hess' five children who decided to remain quiet throughout her entire life. It was only last year, aged 80 and dying of cancer, that Brigitte opened up and told her story to the Washington Post.

She had fled Germany to become a model at the Balenciaga fashion house in Spain, where she met an American engineer, immigrated to the US and ended her career in a luxury boutique in Washington owned by a Jew. Although she eventually told her employer who she was, she kept her job and he kept her secret.

In the interview with the Washington Post she said that she was aware of the fact that Jews and others were murdered in the camp commanded by her father, but said she was doubtful that the number of victims actually amounted to six million.

"How is it possible that so many was saved if so many were murdered?" she asked.

Rudolf Hess was the longest serving commander of Auschwitz, where he tried various methods to accelerate Hitler's "Final Solution" before settling of the pesticide Zyklon B, thereby allowing soldiers at Auschwitz to murder 2,000 people every hour.

Rainer Hess, wearing a Star of David pendant, has spent the last four years educating students about the dangers of racism and anti-Semitism in Germany and elsewhere.

"The extreme right is not stupid," he said. "It increases its ranks, gaining ground slowly but very effectively. I am very aggressive towards them. Whenever I can act against them, I do."

His research has led him to meeting many Holocaust survivors, and he has also participated in a documentary in Israel. "It was a little tricky as the grandson of a mass murderer of Jews going there," he said.

When he met with a group of Jewish students, he was asked what he would do if he had met his grandfather. Today Hess says that his reply was slightly "too impulsive" but responded at the time, "I would have killed him."