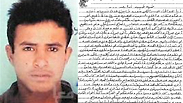 An Israeli citizen serving a 15-year jail sentence in Egypt wrote a letter to Prime Minister Benjamin Netanyahu recently, criticizing the government for what he called their incompetence in attempts to secure his release.

"I'm the Israeli citizen, Ouda Tarabin, who you and your government have forgotten, imprisoned in Egypt," he wrote.

Tarabin, a resident of Rahat in southern Israel, is a member of the Bedouin community in Israel. He was arrested 14 years ago in Egypt where he was convicted of being an Israeli spy.

Related Stories

"Your government hasn't helped me unfortunately because I'm an Arab and that's completely clear," wrote Tarabin in the letter obtained by Ynet before being passed on to the Prime Minister's Office.

"If I were a Jew or a Druze, the government would be fighting for me and my freedom, and I wouldn't have been sitting in an Egyptian prison for 14 years."

"Mr. Prime Minister, this is the truth that everyone knows," he continued. "Mr. Prime Minister, this government is a tragedy for my country, that's supposed to be a democracy in the Middle East."

In his letter, Tarabin tells the prime minister of his hardships in prison, claiming that he has been deprived and treated poorly for being an Israeli citizen.

"They sentenced me with 15 years in prison by a military court for being an Israel spy and I've never made an appearance in court. I haven't even been allowed to see a judge to try and defend myself," he said.

"The Egyptian government knows I'm innocent but because I'm an Israeli citizen, I've been very obviously targeted."

Tarabin wrote about the difficulties of being far from his homeland, his family and judged that Israel was to blame saying, "You're government hasn't raised a finger for my release by the Egyptians who are considered a friendly country and one of joint interests with Israel."

Despite the lack of past action by the Israeli government, Tarabin's letter urged the prime minister, "to act immediately to put an end to my suffering and the suffering of my family, to engage the Egyptian government, and act quickly to ensure my release."

He concluded by saying that, "I want to feel that I'm a citizen who has a country and government that cares for its citizens, that worries about their interests and doesn't discriminate between them."

Tarabin's lawyer, Itzhak Meltzer, told Ynet, "You can't blame Ouda. He saw how Azzam (Azzam, an Israeli Druze jailed in Egypt for eight years) was released while he stayed in prison. He saw what Israel did in order to secure the release of Gilad Shalit and Ilan Grapel while he stayed in prison."

"Tarabin's incarceration in Egypt puts a heavy financial burden on his family," said Meltzer. "I turned to different sources like the finance minister and his deputy, the prime minister and president of the country and I asked them to support the family, but none of them paid any attention."

Tarabin was imprisoned in 2000 for 15 years after being convicted of collecting intelligence information for Israel. His trial was carried out without his knowledge or presence. According to Tarabin, he was taken into custody after crossing the border to visit his family in Sinai.

More than three years ago, there was hope that Tarabin would be released as part of a deal in which Ilan Grapel, who was in Egyptian prison for four months, but in the end Tarabin wasn't included in the agreement.

Tarabin began a temporary hunger strike a year ago and passed a letter to the prime minister and then-Egyptian President Mohamed Morsi through Israeli Ambassador to Egypt Yaakov Amitai.