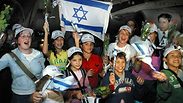 New immigrants from France (archives)
Photo: Sasson Tiram
The number of French Jews immigrating to Israel rose nearly fourfold in the first quarter of the year and could touch a record in 2014, a Jewish organization said this week.

The Jewish Agency for Israel, a global body responsible for the immigration and absorption of Jews into Israel, said 1,407 people left France for Israel between January and March against 353 people a year earlier.

Anti-Semitism

Hamstrung by tough laws in Germany, neo-Nazis turn to surrounding countries to celebrate the Nazi leader's birthday anniversary.

"This phenomenon is speeding up" said Ariel Kandel, the head of the Jewish Agency's French chapter.

"We will not finish the year with four times more the number than in 2013 but if the current rhythm continues, there will be more than 5,000 French people leaving for Israel, something that has never happened since its creation in 1948," he said.

Kandel told AFP that the reasons for the hike in numbers were a "climate of anti-Semitism" and the prevailing gloomy economic situation in France.

France's Jewish community is one of the largest in Europe and pegged at around 500,000.

The number of French Jews leaving for Israel has been growing steadily. A total of 1,907 left in 2012 and it rose to 3,280 in 2013.

More than three million people have immigrated to Israel since 1948, including some 90,000 from France.