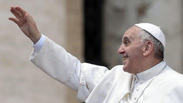 VATICAN CITY - A rabbi and a Muslim leader will join Pope Francis on his upcoming trip to the Holy Land, the first time an official papal delegation has included members of other faiths.

The Vatican said Thursday that Francis' two longtime friends and collaborators from his days as archbishop of Buenos Aires, Rabbi Abraham Skorka and Omar Abboud, a leader of Argentina's Islamic community, are on the official delegation for the May 24-26 trip to Jordan, the West Bank and Israel.

The Vatican spokesman, the Rev. Federico Lombardi, said their presence in the delegation was an "absolute novelty" desired by Francis to show the "normality" of having friends of other faiths.

Related Stories

Francis' main aim during the trip is to mark the 50th anniversary of the historic visit to Jerusalem by Pope Paul VI.

Meanwhile, the top Roman Catholic cleric in the Holy Land said that a spate of "price tag" attacks against the Church had poisoned the atmosphere ahead of this month's visit by Pope Francis, and urged Israel to crack down on the perpetrators.

Fourteen attacks by suspected far-right Israelis have been reported in the past year. Several have been carried out over the last month, including a death threat daubed in Hebrew at the Assembly of Bishops at the Notre Dame Center in East Jerusalem.

The attacks have become known as "price tags" - a reference by ultranationalist Jews to making the Israeli government "pay" for any curbs on Jewish settlement on Palestinian land.

"There has been a marked increase of 'price tag' provocations within Israel," Fouad Twal, the Patriarch of Jerusalem, told reporters at a post-Easter procession in the city of Haifa, home to thousands of Israeli Arab church faithful.

"This wave of extremist actions of terror are surely of grave concern to all reasonable persons."

Twal said "the unrestrained acts of vandalism poison the atmosphere" ahead of Pope Francis' first pilgrimage to the Holy Land since ascending to the papacy.

Reuters contributed to this report.