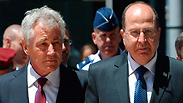 US Secretary of Defense Hagel with Israeli counterpart Ya'alon
Photo: Reuters
US Secretary of Defense Chuck Hagel said on Thursday he was unaware of any truth to a media report that Israel has been spying on the United States.

Asked during a press conference in Tel Aviv about a Newsweek magazine story quoting unnamed US officials as saying Israel was conducting major spying operations against the United States, Hagel said: "I have heard of that report. I'm not aware of any facts that would substantiate the report."

Defense Minister Moshe Ya'alon, who responded to the espionage question in English, said: "As former head of (IDF) intelligence, I wasn't allowed to spy in the United States whatsoever. And as defense minister I don't allow to spy in the United States whatsoever."

Related stories:

Israeli officials had reacted furiously to the Newsweek story, with Foreign Minister Avigdor Lieberman calling it a "malicious calumny".

Ya'alon, who has this year criticized US foreign policymaking, and Hagel both affirmed the strong bond between Israel and the United States, and Hagel noted the record levels of US aid to Israel.

The US defense chief is on a three-day visit to Israel, where he was due to discuss a host of issues, from Iran to Syria to the failed Palestinian peace process.