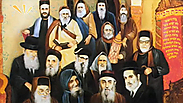 'The blurred boundaries between religion and secularism are growing'
Photo: Orot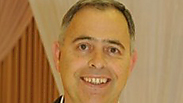 Dr. Ido Lieberman. 'People are buying spirituality cheaply'
About a quarter of Jews in Israel (24%) turn to rabbis for advice, and nearly half of them (43%) are not religious, according to a new study conducted by Dr. Ido Lieberman and Dr. Yael Keshet, based on figures compiled by the Central Bureau of Statistics.

"In nominal numbers, we are talking about 386,750 secular and traditional Jews who regularly visit rabbis' homes and ask for their advice," the researchers tell Ynet.

Jewish Studies

On days when Torah studies and IDF are mentioned together mainly as part of arguments, young secular Jews who have chosen to postpone their military service by one year gather to study Judaism seven days a week.

The two, lecturers in sociology at the Western Galilee Academic College, studied the flocking of Israelis – particularly non-religious Jews – to rabbis' home, and tried to understand whether this phenomenon is similar to Americans flocking to psychologists and personal coaches. They also asked themselves why secular businesspeople and politicians court famous rabbis and seek a mystic response which has nothing to do with anything rational.

The researchers (he is religious, she isn't) stress that they approached the study without any criticism and out of a sincere desire to understand the motives of the seculars who turn to rabbis.

"The existential search for encouragement, a source of comfort and mental support motivate a variety of people in the population to turn to spiritual elements too with the hope of finding salvation," says Dr. Keshet.

"Despite the suspicions, the stigma and the negative experiences sometimes, more and more people from all classes are interested in containing and connecting to the spiritual and traditional aspect in their secular lives. The blurred boundaries between religion and secularism are only growing."
More young people looking for rabbis
According to Dr. Keshet, the study also reveals that among secular and traditional Jews, the rate of those who turn to rabbis is higher among young people than among adults over the age of 40. It is also higher among members of the second generation of Sephardic decent compared to people born in Israel of European or American descent. People with a lower income and education are also more inclined to turn to rabbis.

The study also found a strong connection between a shaky mental situation and the desire to turn to a rabbi. When the respondents were asked who they would rather turn to if they felt depressed or wanted to share their personal problems with someone, 51.2% said they would rather turn to a psychologist or another professional, 43.9% would rather turn to a rabbi and 5% said they would opt to use both options.

Many of the respondents described a strong feeling of excitement which increases ahead of their visit to the rabbi, and in some cases the visit to the rabbi was described as a mystic and even supernatural experience.

Most respondents were asked by the rabbi to engage in a symbolic or ceremonial activity, like reading Psalms, drinking holy water twice a week or wearing a cameo, immersing in a ritual bath, lighting candles in memory of the just, or giving a donation for a circumcision ceremony in case of a fertility problem – all in accordance with the rabbi and the case.
'Like a bazaar'
The study further reveals that secular and traditional women tend to consult with rabbis much more than women in the ultra-Orthodox sector, who hardly turn to rabbis. A senior haredi rabbi will agree to meet with a woman only on extremely rare occasions.

During the interviews, the researchers encountered a lot of anger when the respondents were asked about the money they were required to pay at the rabbis' homes. Apparently, the acceptable fee ranges from NIS 150 to NIS 350 (about $45-100) per visit, but one woman said she had been asked to sign a contract for further payment in case she gave birth to a son.

The respondents were mostly enraged by the sale of "holy items" blessed by the rabbi, which are sold at the waiting room "as if it were a bazaar."

The million-dollar question is: Why do seculars and mainly businessmen turn to Kabbalists? According to Dr. Lieberman, "It's a clear deal. Those who turn to the rabbis are not looking for righteous people, but for the connection to God.

"The other side of the deal is the rabbis – some of them are looking for money, with others it's their associates who are looking for the money, and some of them settle for the fact that the person wanted to be close to them. The goods are clear and they're on the table – each side knows what it can and can't supply."

Do the rabbis ask those who come to them to observe mitzvot?

"The study reveals that both sides are content with little, and that's why the deal works. Those who turn to the rabbi seek a blessing and a connection to the kabbalistic world. The rabbi settles for the fact that people turn to him, and sometimes donate money. The rabbi would be glad of course if that person became more religious down the road, but he settles for what there is."

Do you have any criticism against this phenomenon?

"In the eyes of a sociologist I am only describing a phenomenon. In my civilian eyes, I admit that I am not fond of it. I think that there is an aspect of exploitation here, and another aspect in which a person lets himself off easy. Instead of connecting to God in a long internal process, people want a rapid process, and in fact buy spirituality cheaply.

"I see it as putting one's finger in the electricity plug. Those who turn to the mystical rabbis believe they are people connected to a dimension which is beyond our simple and daily reality. These rabbis are an electric cable connecting them to that electric source which will help them connect to the essence.

"But we must admit that this is not just an Israeli phenomenon, but a process taking place in the Western world since the end of the 20th century, of the breakup of the rational world. It doesn't provide a sufficient response.

"While in the modern era rationality was the queen of humanity, in the post-modern era there is New Age, an attempt to search for spirituality, and it doesn't necessarily lead to good places and good things."