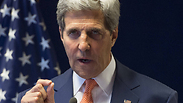 LONDON - US Secretary of State John Kerry said on Thursday he had seen raw data suggesting that Syria used chlorine in gas attacks against its own people, though he said the data had not yet been verified.

French Foreign Minister Laurent Fabius has said Syria may have used chemical weapons involving chlorine in 14 attacks in recent months.

"I have seen the raw data that suggests that there may have been, as France has suggested, a number of instances in which chlorine has been used in the conduct of war," Kerry told reporters in London.

Related stories:

"If it has, and it could be proven, then that would be against the agreements of the chemical weapons treaty and against the weapons convention that Syria has signed up to."

Kerry, who earlier met foreign ministers from European Union and Gulf Arab countries that are opposed to Syrian President Bashar Assad, said the data had not been verified.

The United States had agreed with its allies to "redouble efforts" to support the moderate opposition and is willing to consider funelling aid to rebel-held areas using non-governmental organizations (NGOs) instead of the UN, Kerry said.

NGOs complain that despite multiple requests, the United Nations has so far failed to share its methodology in identifying those most in need and monitoring where its aid goes after delivery. Often it does not even disclose what its food aid includes.

Kerry said: "Every possible avenue that is available will be pursued by one country or another. We are open to the idea of providing aid through any means that will get to people who need it and while a decision has not categorically made, we are open to anything."

But he declined to say whether that would include arming the Syrian rebels.

"I am not going to discuss specific weapons and what country may or may not be providing (weapons) but out of today's meeting every facet of what can be done is going to be ramped up, and that includes a political effort, aid to the opposition, it includes economic efforts and sanctions," Kerry said.

He said the US and its European and Gulf allies rejected planned Syrian elections as illegitimate.

"Together we are unified in saying that Assad's staged elections are a farce - they are an insult (and) they are flawed," he said.