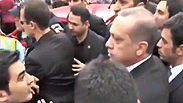 Did Erdogan slap a protester?
ANKARA - Photos showing an aide to Turkey's prime minister kicking a protester held on the ground by special forces police sparked outrage Thursday, tarnishing the Turkish leader's image ahead of his expected run for president.
Turkish newspapers also published photographs showing the adviser kicking the protester and identified him as Yusuf Yerkel, a deputy chief of staff at Prime Minister Recep Tayyip Erdogan's office and adviser to the prime minister.
Related stories:
Additionally, a video reportedly showing Erdogan himself slapping a protester while making his way through crowds of demonstrators was posted on YouTube.
Erdogan slapping a protester? (youtube)
The incident occurred during Erdogan's visit Wednesday to a coal mine in the western town of Soma where at least 282 miners were killed in Turkey's worst mining disaster. Scores of others are still missing.
Angry protesters heckled Erdogan and scuffles broke out between demonstrators and police in Soma, forcing the Turkish leader to take refuge in a supermarket before being driven off in a black vehicle.
Hurriyet newspaper said a protester kicked a vehicle in Erdogan's convoy, prompting the Special Forces police to jump in and force the man to the ground. Yerkel then kicked the protester "three or four times," the paper said.
Twitter was abuzz with posts condemning Yerkel's action and an opposition party demanded an explanation for it.
"Do his responsibilities include beating up and kicking protesters or citizens? On which legal grounds was he given this authority?" lawmaker Ugur Bayraktutan asked in a question submitted to parliament for the government to answer.
Yerkel could not be reached for comment Thursday.
The prime minister's office distanced itself from the incident, with one official saying the issue was Yerkel's "own personal matter." The official was not allowed to give his name to the press without authorization, which he did not have.
Erdogan is widely expected to run in Turkey's presidential election in August, although he has not yet announced his candidacy. He has already served the maximum three terms as prime minister.