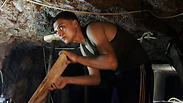 A Palestinian tunnel worker repairs a smuggling tunnel in Rafah
Photo: AP
The ousting of the Muslim Brotherhood administration in Egypt has not only led to the political isolation of the Hamas government in Gaza, but has also taken its toll on the Strip's economy, which is in the midst of a severe economic crisis.

The Palestinian Central Bureau of Statistics has reported that unemployment in the Strip has surged in the first quarter of 2014 to 41 percent, the highest rate since 2009. The number of unemployed persons stands at 180,000 people.

Related stories:

A year ago, in the first quarter of 2013, the rate of unemployment was 30 percent – meaning, the rate has increased by 11 percent in just one year.

The steepest decline in the number of employed workers was seen in the construction industry. The industry is undergoing a deep crisis as a result of the Egyptian army's ongoing operation over the past year against the tunnels in the Rafah area, which has brought to a steep drop in the amount of goods smuggled from Egypt through the Philadelphi Route.

The industry was also hurt also by Israel's decision seven months ago to impose severe restrictions on the transfer of construction supplies into the Strip, and to restrict the sale of construction materials to international aid organizations that operate in Gaza, following the exposure of tunnels close to Kibbutz Ein HaShlosha. Hamas forces had used concrete in these tunnels to prevent their collapse.

The closure of the tunnels in the Philadelphi Route, through which goods were smuggled (there is a distinction between tunnels through which weapons were smuggled and tunnels that were used to smuggle goods), induced a crisis among additional civilian industries.

According to the data, until the end of the first half of 2013 – even before the closure of the tunnels in Rafah – 24,000 people were employed in the construction industry. Today, 7,000 people are employed in the field. The rate of unemployment among young people is 58 percent.

Information Department Director at Gisha – Legal Center for Freedom of Movement, Iman Jabbour, explained that the market in the Strip is unable to absorb more workers under the current conditions.

"Despite the increase in the number of people in the workforce and in the numbers of job seekers and of the employed, unemployment continues to grow, because the current market in Gaza is not able to absorb more workers," he said.

"This is another troubling sign that the economy in the Strip cannot exist without any connection to the outside world, as a result of a blanket ban on selling goods from the Gaza Strip to Israel and to the West Bank, combined with the critical damage that the construction industry is suffering in the Strip," Jabbour added.