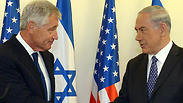 Hagel and Netanyahu
Photo: Haim Tzach, GPO
Prime Minister Benjamin Netanyahu said on Friday that Israel was not surprised by a confidential UN report on the Iranian ballistic missile program, before a meeting with US Secretary of Defense Chuck Hagel for talks on Iran.
The report claimed that despite a reduction illicit purchases that breach UN sanctions, Iran's development of ballistic missiles posed an acute challenge to six powers negotiating with Tehran to rein in its nuclear program.
At a press conference before the meeting with Hagel, Netanyahu stressed that the Islamic republic was deceiving the international community.
"I believe that while the talks with Iran are on-going, one thought must guide the international community: The Ayatollahs must not be allowed to win.
Related stories:
"We cannot allow Iran, leading sponsor of terrorism in these times, to develop the capability to manufacture nuclear weapons," he said.
Netanyahu also raised the failed US-led talks between Israel and the Palestinians, citing incitement and anti-Zionist propaganda as a major detriment to the success of any negotiations. But the prime minister reserved much of the blame on Palestinian President Mahmoud Abbas' decision to seek a unity government with Hamas.
"Our Palestinian partners are advancing their unity agreement with Hamas, which the US has rightfully designated as a terrorist organization.
"It is clear the Palestinians cannot have a pact with Hamas and peace with Israel," he said.
During his remarks before the meeting, Secretary Hagel emphasized that "American support for Israel is at an all-time high" and that "America's commitment to Israel's security is resolute."
Hagel also reiterated President Barack Obama's "continued commitment to ensuring that Iran does not get a nuclear weapon."