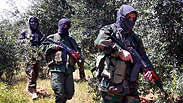 Hezbollah fighters on the Syria-Lebanon border
Photo: AP
WASHINGTON - Iran is recruiting Afghan refugees to fight in Syria, the Wall Street Journal reported late Thursday. In exchange, Iran is offering them stipends of $500 a month and residency permits, the paper said, quoting Afghans and Western officials.
Shiite Muslim Iran is a key ally of President Bashar Assad in the three-year-old war against Muslim insurgents seeking to oust him.
Details of the recruitment drive by the elite Revolutionary Guards were posted this week on a blog catering to Afghan refugees in Iran, the Journal said.
Related stories:
It said this was confirmed by the office of Grand Ayatollah Mohaghegh Kabuli, an Afghan religious leader in the Iranian holy city of Qom. The paper quoted a Western official in Iran as saying recruiting Afghans was part of a strategy to send poor foot soldiers to the battle front.
The aim was to reduce casualties among Iranian Guards personnel and Lebanon's Hezbollah militia, a close Tehran ally, the official said.
Tehran strongly denies its forces are directly involved in the Syrian conflict but Hezbollah publicly acknowledged in April last year that it has been fighting alongside Assad´s troops.
Like Hezbollah and most Iranians, the Afghan recruits are Shiites and support Assad, whose Alawite faith is an offshoot of Shiite Islam, the Journal said.