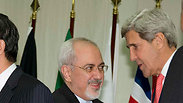 US worried by slow pace of talks
Photo: Reuters
VIENNA - Iran and six world powers are making little progress in arduous talks on ending their dispute over Tehran's nuclear program, a senior US official said on Friday, fanning doubt about the prospects for a breakthrough by a self-imposed July deadline.

The Islamic Republic also said the latest round of negotiations, which began in Vienna on Wednesday and were expected to end later on Friday, were difficult and slow.

After three months of comparing expectations rather than negotiating possible compromises, the sides planned at the May 13-16 meeting to start drafting the text of a final agreement that could end many years of enmity and mistrust and dispel fears of a devastating, wider Middle East war.

Related stories:

But the talks hit a major snag Friday over the future size of a nuclear program that Tehran says it needs to expand to fuel atomic reactors, but which the US fears could be used to make nuclear weapons.

The disagreement had been on the back burner since talks began February 18 on a comprehensive deal meant to constrain Iranian nuclear work that can make such arms in exchange for full sanctions relief on Tehran's economy. Negotiators had concentrated on less contentious components of a final deal in previous rounds.

But both sides reported difficulties as the talks went into their third day - and Washington said it was up to the Iranians to make concessions.

Iranian Deputy Foreign Minister Abbas Araqhchi told Iran's IRNA news agency the negotiations are moving "very slowly and with difficulty," while a senior US official described the negotiations as "slow and difficult."

"Significant gaps remain," a US official, who wasn't authorized to speak publicly about confidential information, said on condition of anonymity. "Iran still has some hard decisions to make."

The US and Iranian statements might be designed in part to raise pressure on the other side but they also betrayed stubborn, major differences that must be overcome if intense diplomacy is to succeed in clinching a final accord.

But the atmosphere remained businesslike enough for Iranian-US bilateral talks that lasted over two hours. Such meetings, once almost unimaginable, have become more common as the two foes have sought to re-establish official communications channels closed since Iran's 1979 Islamic Revolution.

A Western official with detailed knowledge of the negotiations was more specific, telling The Associated Press the two sides were at loggerheads over enrichment.

Iran denies any interest in nuclear weapons, saying its enrichment program is meant only to make reactor fuel. But because the technology can also create weapons-grade uranium for warheads depending on the level of enrichment, Washington and its allies want strict constraints on its size and scope.

The official declined to go into the specifics of what separated the two on the issue at the negotiating table and demanded anonymity because he wasn't authorized to discuss the confidential talks.

But general differences have long been known. Iran's nuclear chief, Ali Akbar Salehi, has said publicly that Tehran needs up to 100,000 centrifuges - the enriching machines - for a future nuclear network.

That's about five times as many as the centrifuges Iran now has standing but idle, 10 times that of the machines actually enriching - and much more than the few thousand that diplomats say the US and its allies are prepared to allow.

Related differences focus on length of constraints on enrichment and other nuclear activities that could be proliferation-relevant. The diplomats say Washington and other Western countries want decade-long limits, whereas Tehran is pushing only for a few years before all restrictions are lifted.

The dispute over enrichment surfaced less than two months before the July 20 target date for a deal and follows encouraging signs of progress on less contentious issues in earlier rounds that had raised hopes that a pact could be sealed by then.

This week's Vienna meeting was the fourth round of negotiations between Iran and the United States, France, Germany, Britain, China and Russia since February with the goal of a long-term deal by July 20.

Diplomats have disclosed that some headway was made during the previous three rounds on one of the thorniest issues - the future of Iran's planned Arak heavy-water reactor. The West worry it could prove a source of plutonium for nuclear bombs once operational but Iran has offered to alter its configuration so that any plutonium output would be minimal and insignificant.

They also said Iran is ready in principle to sign an agreement with the UN atomic agency that would allow its experts to visit any declared nuclear site at very short notice, investigate suspicions of undeclared nuclear activity and push for deeper insight into all atomic work.
Despite slow talks, atmosphere is 'good'
The Islamic Republic rules out closing any of its nuclear facilities. Its priority for any deal is an end of international sanctions that have severely damaged its oil-reliant economy.

Other big points of contention include the duration of any limitations of Iran's atomic activities and the speed of lifting sanctions, as well as whether any agreement should cover the future scope of its ballistic missile program.

Shadowing the background of the talks have been threats by Israel, which sees Iran as a existential threat, to attack Iranian nuclear installations if it deems diplomacy ultimately futile in containing Tehran's atomic abilities and potential.

Israel on Friday cited a UN Panel of Experts report obtained by Reuters that said Tehran was pressing ahead with its ballistic missile program in violation of UN sanctions, complicating the nuclear talks.

US President Barack Obama has not ruled the last-ditch option of military action either. Iran says it would hit back hard if it were attacked.

After years of increasingly hostile confrontation between Iran and the West, the landslide election last year of pragmatist Hassan Rouhani as Iranian president paved the way for a thaw in ties.

Failure to reach a deal would undermine Rouhani's position and strengthen the position of his hardline opponents who have accused him of preparing to give up Iran's nuclear capabilities.

Last year's resumption of serious negotiations led to a landmark interim deal in November that saw Iran shelve higher-grade enrichment in exchange for some sanctions relief, but this arrangement expires in July.

Senior Iranian negotiator Abbas Araqchi said late on Wednesday "all the parties involved in the talks have good will" but the talks had entered a very difficult stage. Still, "despite the slow pace of the talks, the atmosphere is good," he was quoted by semi-official Fars News Agency as saying.

Reuters and the Associated Press contributed to this report.