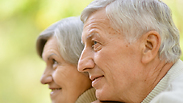 Illustration
Photo: Shutterstock
Israeli men live longer and life expectancy in the country is on the rise, according to a report by the World Health Organization (WHO) released this week.

According to the WHO report, men in Israel live until the average age of 80.2 and are ranked fourth in the world. This is a significant rise from 1990, when Israeli men lived an average of 77 years.

Only men in Iceland (81.2), Switzerland (80.7) and Australia (80.5) live longer than those in Israel.

Related stories:

Women's life expectancy is on an average of 84 years, similar to Portugal, that is ranked 10th in the world. In the past, women lived an average of 79 years.

This data is significantly higher than Israel's neighbors in the Middle East, where life expectancy stands on 68, or in Europe, where it stands on 76.

While life expectancy is on the rise, maternal death in correlation is on a decline. In 2012, only two out of 100,000 women died giving birth, while in 1990 maternal death was on 12 out of every 100,000 women.

Death of newborn babies is also on a decline. Only two babies died at birth out of a thousand in 2012, while in 1990 six babies out of a thousand passed away.

The mortality of children under five years of age is also on a decline - from 12 out of a thousand in 1990 to four out of a thousand in 2012.

The Israeli health system notes these achievements despite a shortage in manpower: in Israel, there is only an average of 49.3 nurses treating 10,000 people, compared to Europe where there is average of 80.5 nurses for the same amount of people.

While in Israel there are only 33 hospital beds for every 10,000 people, in Europe 53 hospital beds are provided to the same amount of people.

The number of doctors, however, is up to par with Europe. There is an average of 33.5 doctors for every 10,000 people in Israel, while in Europe the ratio is 33.1 to 10,000. Despite that, the rate of doctors in Israel is on a decline compared to the constantly rising rate in Europe.

The WHO report states that there is a decline in public funding to the Israeli health system, from 64 percent in 2000 to 61.4 percent in 2011.

At the same time, there's a rise in private funding of citizens for health services, from 36 percent a decade ago to 38.8 percent in 2011.