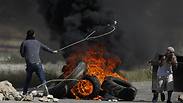 Palestinians throwing stones near Ofer Prison.
Photo: Reuters
Two Israeli journalists had to be extricated by the Palestinian security forces in Beitunia on Friday after they were attacked by a Palestinian mob.

Avi Issacharoff, who writes for Hebrew news site Walla and English news site Times of Israel, was one of the journalists attacked.

"Was attacked and beaten by Palestinian mob. Near Ramallah. Just because I'm an Israeli journalist," he wrote on his Twitter feed shortly after the incident.

Issacharoff was "hit and kicked from behind" by "a mob of Palestinian masked men," according to his first person account on the Times of Israel website.

"I'm not prone to exaggeration. It was a case of life and death, and I was within moments of falling victim to the kind of lynch that saw two Israeli soldiers who strayed into Ramallah in 2000 beaten to death by a baying mob," he wrote.

"I was there to report on the Nakba Day protests with a cameraman colleague from Walla News. He was some distance from me, when he was approached by several Palestinian journalists who told him to get out," Issacharoff recounted.

"I walked towards them, and told them that if they had a problem, they should be talking to me. One of the Palestinian journalists, a young woman, then called over to a group of masked men, who swiftly surrounded me and began attacking me."

Issacharoff, an experienced and well respected journalist who has been covering the Palestinian territories for many years, said that while he has been in "no shortage of sticky situations," this incident was "totally unexpected."

Following the incident, the Coordinator of Government Activities in the Territories Yoav Mordechai spoke to the head of the Palestinian intelligence on the mutual interest that lies in security coordination.

Yoav Zitun contributed to this report.