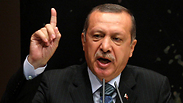 Turkish Prime Minister Erdogan
Turkey's prime minister shouted an anti-Israel slur as he was mobbed by angry protesters at the site of a deadly mine blast this week, local media reported Friday.
"Why are you running away, Israeli spawn?" Recep Tayyip Erdogan is heard yelling at a protester in video footage circulated by the opposition Sozcu newspaper, using an expression considered a curse in Turkish.
Related stories:
In the footage that could not be authenticated, Erdogan is seen surrounded by angry protesters shouting and whistling at him as he visited the tragedy-hit town of Soma on Wednesday a day after the blast.
Some local media claimed Erdogan hit the protester in the commotion, but this was not clearly visible on the video, and was denied by the deputy chairman of his ruling party, Huseyin Celik.
The controversial new footage comes after photographs of Erdogan's adviser Yusuf Erkel violently kicking a protester in Soma went viral on social media, sparking global outrage.
"I am sorry as I was not able to keep my calm in the face of all provocations, insults and attacks I was subjected to," Yerkel said.
Celik said Friday that Yerkel had been attacked and wounded by the protester and had been signed off sick for seven days by a doctor.
Erdogan's government is under mounting pressure to contain fallout from the mine catastrophe.