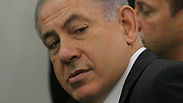 Netanyahu.
Photo: Ido Erez
The North Korean foreign ministry slammed Prime Minister Benjamin Netanyahu after he accused Pyongyang of sharing nuclear technology with Tehran, public broadcaster KBS reported on Saturday.

During a visit to Japan this week, Netanyahu told a Japanese paper that Iran "would share whatever technology it acquired with North Korea."

Asked if Pyongyang is receiving technologies linked to nuclear and missile development from Iran, Netanyahu said: "Yes, that's exactly the case."

Related stories:

A spokesman for the North Korean foreign ministry said the prime minister's statement was a "shallow trick to continue expansionist ambitions in the Middle Eastern region."

The spokesman called Israel a "cancer to peace in the Middle East," accusing Netanyahu of "trying to divert international criticism of Israel caused by its settlement activity and breakdown in the Middle East peace talks."

Israel, the spokesman noted, "must shed its bad habit of picking on others when it is driven to the corner and must respond to international demands to achieve peace and denuclearization in the Middle East."

During a meeting with Japanese Foreign Minister Fumio Kishida on Tuesday, Netanyahu drew a comparison between Israel's nemesis Iran and North Korean, whose nuclear and ballistic missile program is one of Japan's major security concerns.

"We see a danger and a challenge posed by a rogue state arming itself with nuclear weapons. In your case it's North Korea," he said.

"We are faced with such a rogue state in the form of Iran and its quest to develop nuclear weapons," he said.

"Iran continues to deceive the world and advance its nuclear program," he said, adding "Clearly the Ayatollahs cannot be trusted."

"And if the international community wants to avoid the specter of nuclear terrorism, they must assure that Iran... not have the capability to develop nuclear weapons," he said.