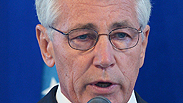 A new NSA document, stolen by whistleblower Edward Snowden and released recently through journalist Glenn Greenwald, states that CIA investigations "ranked Israel the third most aggressive intelligence service against the US," according to a Newsweek report on Friday.

The NSA addressed America's complex intelligence relationship with Israel in the document, saying that, "The Israelis are extraordinarily good (Signals Intelligence) partners for us, but on the other (hand), they target us to learn our positions on Middle East problems."

Cooperation between the two countries may be unparalleled when spying on third parties, but the leaked paper puts Israel just behind China and Russia in its attempts to gather intelligence on the US.

Related Stories

Newsweek previously published two reports accusing Israel of broad spying networks aimed at the US. Israeli officials vehemently denied the claims saying that the articles were, "tainted with a whiff of anti-Semitism."

Meanwhile, US Secretary of Defense Chuck Hagel visited Israel on Thursday and responded to the Newsweek reports saying that, "I have heard of that report. I'm not aware of any facts that would substantiate the report."

Hagel's Israeli counterpart Moshe Ya'alon said, "As former head of (IDF) intelligence, I wasn't allowed to spy in the United States whatsoever. And as defense minister I don't allow spying in the United States whatsoever."