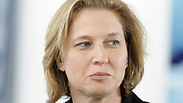 Justice Minister Tzipi Livni
Photo: AP
Prime Minister Benjamin Netanyahu has told Justice Minister Tzipi Livni that her meeting with Palestinian President Mahmoud Abbas in London on Thursday was not an official government summit, sources in the Prime Minister's Office said Saturday.

The prime minister had clarified to Livni that "in this kind of meeting, she only represents herself and not the Israeli government," the sources said.

Foreign Minister Avigdor Lieberman also downplayed the relevance of the meeting, in comments to the Israeli media Saturday.

"I assume that she (Livni) was in London privately and met whoever she wanted to meet," Lieberman told Channel 2 television. "I'm sure that this wasn't a meeting for peace talks. Even if they played checkers, that's their prerogative."

Related Stories

Netanyahu stressed that, "The Israeli government won't hold peace talks with a Palestinian government supported by Hamas, a terrorist organization that openly declares its intentions to destroy the State of Israel."

Livni's office said that her meeting with Abbas wasn't in her itinerary, and was a last minute decision that took advantage of the fact that both were in London at the same time, Abbas for talks with US Secretary of State John Kerry.

Livni herself said that discussions couldn't continue while Palestinians gave legitimacy to Hamas, and stressed that she made that point clear in her meeting with Abbas.

Livni acted as Israel's chief negotiator in peace talks with the Palestinians thath collapsed last month as they approached an April 29 deadline that marked nine months of negotiations.

Her meeting with Abbas was the first meeting between officials on both sides since the talks ended. The justice minister also met in London with Kerry, who brokered the latest round of negotiations.

Lieberman also addressed the topic of peace talks Saturday, expressing little hope for a swift renewal.

"The cabinet has made decisions to freeze peace talks with the Palestinian Authority, and Livni also supported those decisions," said Lieberman.

However, Lieberman did suggest that there may soon be progress in a new direction for Israel saying, "The Foreign Ministry and the foreign minister have presented an alternative plan to the prime minister, whose details shouldn't be revealed just now."

"The fact that we don't run things by Abu Mazen doesn't mean that we aren't making other plans," Lieberman added, referring to Abbas.

The foreign minister also downplayed reports that a senior US official had blamed Israel for the breakdown in peace talks.

"Even the best of friends make mistakes," said Lieberman. "And the Americans are mistaken about the issue of settlements just like they were mistaken about (the 2006) Palestinian elections."

"(Then-prime minister Ariel) Sharon was opposed and said that Hamas would take control of the government and (then-US secretary of state Condaleezza) Rice managed to force her wishes on Israel. They're making a mistake here too. Jewish settlement isn't a roadblock to peace."