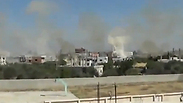 Fighting in souther Syria
The Syrian army began a new offensive on Friday against rebels trying to topple President Bashar Assad, meant to regain complete control of the Quneitra region in the south of the country.

The strategic triangle targeted by the Syrian army extends from the capital of Damascus to the Jordanian border and the Syrian side of the Golan Heights.

Related Stories

Though the number of victims from the beginning of the operation over the weekend is unknown, intensive aerial bombardments were reported throughout the south and hundreds of rockets were launched at villages in the area.

"The army wants to take back hills seized by rebels in recent weeks, that link together Daraa and Quneitra provinces," said Syrian Observatory For Human Rights director Rami Abdel Rahman.

"The army's counter-offensive, against rebels and the (jihadist) Al-Nusra Front, has been extremely fierce. On Friday the army fired 100 rockets and carried out 15 air strikes. On Saturday, the air raids and shelling have been continuous, and the army also fired a surface-to-surface missile against Sahem village," said Abdel Rahman.

The Syrian government has labeled the advancement on the south as an "anti-terrorist operation."

Reports from the Saudi publication Al-Okaz quoted diplomatic sources as saying that Hezbollah operatives fighting alongside the Syrian army had already taken up strategic positions in the area. The sources said that Hezbollah sees the entire region as key in their fight to control southern Lebanon.

The IDF recently locked down the border with Syria at least twice in response to nearby fighting in which rebels captured a key village near the Israeli border.