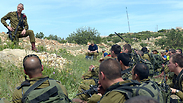 IDF Chief Benny Gantz addresses troops during a drill
Photo: IDF Spokesman
The Israeli and American armies were to begin a joint drill in Israel on Sunday, to test the two nations' missile defense systems. Some 1,000 American soldiers have arrived in Israel for the drill, Israel Radio reported.

The drill, code-named Juniper Cobra, is held every two years and is designed to test the joint Israel-American military responses to missile attacks, the radio said. Israel's central missile defense system, the Iron Dome, is jointly funded by the United States.

General Eyal Eizenberg, who heads the Home Front Command, last week issued a reminder that the Home Front would be a prime target for Israel's enemies during any conflict.

Speaking during an IDF drill, Eizenberg said that the enemy understood that what it did not launch in the open salvo of a conflict would not be an option as time went by. The enemy would try to paralyze Israel and demoralize its citizens using any weapons available, Israel Radio quoted him as saying, in order to achieve a ceasefire that would rule out an Israeli counter-offensive.

The Home Front, warned Eizenberg, is the second front in any war and central to the enemy attack.

Both Hezbollah and Hamas use missile strikes on Israeli civilian population centers as a key strategy during conflict. In the 2006 Second Lebanon War, Hezbollah fired more than 100 rockets a day at Israeli targets, primarily in the north, but reaching as far south as Hadera.

In the IDF's Operation Pillar of Defense in Gaza in November 2012, Hamas and other Palestinian militant groups fired rockets at Israel, some reaching as far as the Tel Aviv region. Gaza has also been a launch site for regular rocket attacks on the parts of southern Israel close to its border.