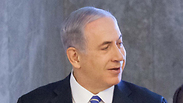 Netanyahu at weekly cabinet meeting
Photo: Emil Salman
Prime Minister Benjamin Netanyahu lashed out Sunday at the Palestinian Authority for its new embrace of Hamas, drawing a direct line between the PA's "unceasing incitement" and the findings of a study of anti-Semitism around the world.

"Last week, the Anti-Defamation League issued a global report in which it compared levels of anti-Semitism among adults in various places around the world," Netanyahu told his weekly cabinet meeting.

Related stories:

"It seems that the place with the highest level of anti-Semitism is the Palestinian Authority, where 93% of adults hold anti-Semitic views. This is the result of the Palestinian Authority's unceasing incitement, which distorts the image of the State of Israel and the Jewish People, as we have known in other places in our past."

Netanyahu also repeated his criticism of recent reconciliation efforts by rival Palestinian factions, which Israel says led to the collapse of nine months of peace talks.

"(The Palestinians) define the existence and establishment of the State of Israel as a disaster that must be corrected," the prime minister said. "This also finds expression in the increased activity that the Palestinians are allowing in Judea and Samaria for Hamas, which directly and openly calls for our destruction. Whoever sees the establishment of the State of Israel and its continued existence as a disaster does not want peace."