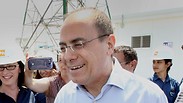 Silvan Shalom
Photo: Avi Mualem
Prime Minister Benjamin Netanyahu has met with Energy and Water Minister Silvan Shalom Thursday to discuss the possibility of Shalom submitting his nomination for presidency. Netanyahu's close circle had said that "he is considering backing Shalom should he decide to run. It seemed that the meeting was important to both sides."

Shalom is still considering and has yet to announce his decision. Sources close to the prime minister said over the weekend that "Netanyahu is determined to thwart MK Reuven Rivlin's election for presidency and he is definitely considering supporting Shalom if the latter joins the race."

Sources in the Likud said that "all those stories about Sara Netanyahu's objection to the presence of Judy Shalom Nir-Mozes, Shalom's wife, at the President's Residence – are nonsense. Netanyahu couldn't be further from ruling out Minister Shalom."

Foreign Affairs Minister Avigdor Lieberman has also stated that if Shalom chooses to run he would get his voice and his party's support.

Likud officials have warned that if the right wing runs two candidates (Shalom and Rivlin), it will cause a split in votes which Labor candidate Binyamin Ben-Eliezer will benefit from.

However, in case all three candidates decide to run, a second round is expected to be held. The elections for the presidency, likely to take place in mid June, are discreet, so eventually there is no telling who would vote for whom.

During the weekend, former minister David Levi's name was suggested once again as an additional candidate.

Netanyahu's inner circle said that as the elections date is drawing nearer, the tension between the prime minister and Rivlin is escalating. They stressed that Netanyahu can't bear the thought of Rivlin as president, and he is willing to do anything to present another candidate.

Though Netanyahu's initiative to postpone the elections and eventually cancel altogether the presidency in Israel was thwarted last week by Finance Minister Yair Lapid and Justice Minister Tzipi Livni, sources claim he will continue these efforts in the future.

"Netanyahu's mistake was that he hadn't started to work on his move to postpone the elections for presidency six months ago," sources said.