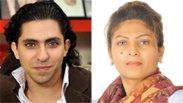 "I'll wait for him all my life if necessary. Words cannot describe how I feel."
Earlier in May, the district court in Jeddah, Saudi Arabia imposed a harsh sentence on blogger and human rights activist Raef Badawi – 10 years in prison and 1,000 lashes.
Badawi (30), creator of the website "Free Saudi Liberals", was charged with "insulting Islam" after he harshly criticized the Kingdom's notorious religious police - the police force that is responsible for the implementation of "Sharia", the Islamic law.
The imprisoned blogger's wife, Ensar Haider, who is currently staying in Canada, is having a hard time coming to terms with the punishment handed to her husband.
In an interview with Ynet via email, the 30-year-old, who is also a human rights advocate, tells of her feelings after she heard the verdict's announcement, which sparked angry reactions around the world.
"I married Raef in Saudi Arabia in 2001 after a big love story between us," Haidar says. "The incident blew-up after my husband escalated his critique of the Saudi religious establishment in articles and interviews.
"Consequently, religious extremists came out strongly against him, and one of them, Abd al-Rahman al-Barrak, issued a fatwa declaring Badawi an apostate - which carries the death penalty. Afterwards, demands for his arrest were issued in the Kingdom and Saudi authorities eventually bowed to pressure from extremists and arrested him on June 12, 2012."
Leaving Saudi Arabai: 'I feared for my life'
After the publication of the religious sentence that de facto called for Badwai's death, Haider left Saudi Arabia several months before his arrest and settled in Canada.
"I feared for my own and my children's safety. We left Saudi Arabia and after he was arrested, we arrived in Canada, where we received a temporary stay permit." The couple has two daughters and one son, and in their last telephone conversation, Badawi told her that his spirits were high and that he "stands firm".
Badawi is not the only prisoner of conscience in Saudi Arabia, and according to his wife, other civilians have paid dearly for voicing anti-establishment opinions. "You can count those who really insulted Islam on one hand. There aren't many of them. But there are many people who were arrested for expressing their opinion," she explained.
A staunch advocate of women's rights, Haider takes a cautiously critical stance towards the Saudi Arabian royal family. "I think that all of the Saudi efforts, especially those of the King (Abdullah), to shake the international image of the Kingdom as an extremist country, completely fail when considering a cruel and barbaric sentence such as the one my husband received," the blogger's wife says.
'The religious police should be abolished'
Haider does not spare criticism of the country's religious police. "Like Raef, I believe that the religious police should be abolished and that those who stand at its head should be prosecuted," she says.
In her fight for the liberation of her husband, Haider received assistance of several lawyers both from Saudi Arabia and abroad. And as far as she is concerned, the last word regarding her husband's harsh sentence has yet to be spoken. "We will file an request to appeal the Supreme Court's ruling in accordance with the law. Personally, I very much hope that the King will grant Raef pardon."
With amnesty for the blogger not in near sight, Haider continues in her struggle and asks to send a message to the King, the Royal family and to the entire world. "Instead of traversing the world and propagating our open-mindedness about religion, we need to start by being honest with ourselves and begin to be honestly tolerant of those who are ideologically different from us," she said.
As mentioned, Bawdai has been imprisoned in a Saudi jail since June 2012 and has also received a fine of 1 million riyal (equal to about $267,000). In July 2013, he was sentenced to more than seven years in prison and 600 lashes for insulting Islam. However, the court issued a new ruling for his trial, overturning the original sentence.
Sources in the UN expressed concern about the heavy sentence imposed on Badwai. UN deputy spokesman Farhan Haq said recently at a press conference that the long line of latest arrests and sentences in Saudi Arabia "prove that there is a growing tendency in the Kingdom to suppress freedom of expression and freedom of religion and thought."