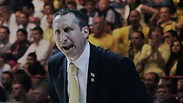 Maccabi Tel Aviv coach David Blatt
Photo: Reuben Schwartz
Maccabi Tel Aviv won their sixth Euroleague title in grand style by beating hot favorites Real Madrid 98-86 in overtime on Sunday.

Guard Tyrese Rice produced his second effervescent performance of the weekend to lead the Israeli side with a game-high 26 points after scoring the winner in Friday's 68-67 semi-final defeat of CSKA Moscow.

More than 10,000 Israelis flew to the final held in the Milan, and all over Israel, club fans and citizens alike were glued to their television sets.

After their victory, nonagenarian President Peres jokingly said he almost had a heart attack, but praised one of Tel Aviv's two teams, saying "The entire country is yellow," a reference to the teams colors – yellow and blue.

Peres called the team's manager David Blatt and told him: "David, the entire country is yellow, you are the best. You has shown what determination is and that any team that fights like a tigers can win like lions. It was amazing, I almost got a heart attack."

Prime Minister Netanyahu echoed the congratulatory claims of the president, writing on his Facebook page "We have the championship," together with a picture of himself watching the game.

The prime minister also phoned Blatt to congratulate him on his team's victory. "We've always been on the map, but you kept us on the map today in such an impressive way. The people of Israeli are lighting bonfires today, but you set the court on fire and we're all proud of you."

Real, chasing a record ninth trophy in Europe's premier club competition, seemed to be cruising after a 19-2 run midway through the first half gave them an 11-point lead.

But Maccabi closed the gap with a barrage of fast breaks and were on the verge of winning the game in regular time having thrown away a four-point lead in the last minute as livewire Rice also missed an open three-point shot on the buzzer.

Rice bounced straight back in overtime, scoring 14 points in the additional five minutes as Maccabi pulled away and sent their passionate 10,000 fans into raptures at the Mediolanum Forum Arena.