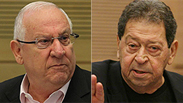 Rivlin and Ben-Eliezer
Photo: Gil Yochanan
Knesset Speaker Yuli Edelstein announced Monday that the next presidential elections will take place on June 10, putting an end to months of speculation over changes to the system of election, delaying the ballot and even a bid by Prime Minister Benjamin Netanyahu to cancel the post.

"The role of the state's president is an important one. The president of Israel is supposed to heal rifts and act to bridge gaps. Unfortunately, the current race has been muddied by slander and delegitimization, which I feel has disgraced the process and caused severe damage to this important institution. I want to wish each of the candidates good luck, but beyond that - I beseech, and even demand of them - for me, for the Knesset and for the people of Israel - to behave with dignity, respect, decency, morality and integrity," Edelstein said.

Edelstein stressed that each of the candidates must get the signatures of ten MKs on their application until May 27.

There are at present seven declared candidates for the post of 10th president of the State of Israel - veteran Likud MK Reuven Rivlin, Likud Minister Silvan Shalom (whose candidacy was in doubt following accusations of sexual harassment), Hatnuah MK and former finance minister Meir Sheetrit, Labor elder statesman and former defense minister Benjamin Ben-Eliezer, former Knesset Speaker Dalia Itzik, former Supreme Court justice Dalia Dorner and Nobel Laureate Professor Dan Shechtman of the Technion.

Rivlin has started campaigning for the post in earnest, making a direct appeal to his fellow Knesset members, who vote for the president.

"I am asking for your trust to fill the office of the president in order to make the President's Residence a place of partnership, dialogue and understanding. At a time when it seems that there is an ideological, cultural and religious abyss between the different groups in Israeli society, the greater the need to entrust the president with creating a bridge between the sides in conflict. Given the weight of responsibility and the magnitude of the challenge, I humbly stand before you and ask for your trust and support."

So, Rivlin, Ben-Eliezer and Sheetrit are the only ones to have secured the signatures of 10 MKs, a necessary step to submitting a candidacy; Itzik is also expected to submit her list of 10 signatures soon.

The Yesh Atid Knesset faction was set to meet Monday, apparently to discuss the option of signing the list of those presidential hopefuls who have not yet garnered enough signatures, such as Dorner and Shechtman. Party members had until now been asked not to take an official position on the presidency or sign the lists of would-be candidates.