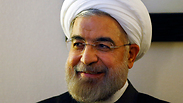 TEHRAN - Talks between Iran and world powers on Tehran's nuclear program will lead to an agreement "despite the difficulties", because it is in everyone's interest, Iranian President Hassan Rouhani said Monday.
A fourth round of talks on Friday in Vienna between Iran and the P5+1 countries - Britain, China, France, Germany, Russia and the United States - to begin drafting a final agreement on the scale of Iran's nuclear program ended without result due to many differences of opinion.
However, the two sides have since stressed their willingness to continue negotiations, aimed at ending a decade of crisis. They were scheduled to meet again in mid-June.
Related stories:
"Negotiations between Iran and the P5+1 will lead to an agreement despite the difficulties because it's in everyone's interest to reach a win-win situation," Rouhani said, according to the official Iranian IRNA news agency.
An interim agreement signed in November 2013 and entered into force in January, means Iran has frozen some of its nuclear activities in exchange for partial lifting of Western economic sanctions.
"The goal of the Islamic Republic is to develop civilian nuclear technology and that will continue. But at the same time, it wants to reach an accord (with the West) because it is in everyone's interests," Rouhani said.
He stressed that "the Iranian nation does not fear the sanctions" that have been imposed on the country's economy since 2012.
According to Iranian media, there are still many gaps between Iran and world powers, including on uranium enrichment (the number and type of centrifuges, and the amount of uranium produced), the heavy water reactor in Arak, nuclear research and development, the easing of economic sanctions, and Tehran's refusal to include its ballistic missile program in the discussions.