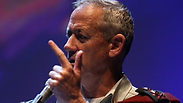 IDF Chief of Staff Lt.-Gen. Benny Gantz
Photo: Motti Kimchi
IDF Chief of Staff Lt.-Gen. Benny Gantz commented Monday for the first time on the growing financial crisis faced by the Israeli defense establishment, and announced that in light of the budgetary woes, the IDF will halt all planned training for its reserve soldiers.

"As of now our plans for the reservists in the next year will not take place. Reservists will stop training in the next year to give precedence to the training of (regular) soldiers," Gantz said at a ceremony honoring reserve soldiers held at the Glilot base.

The IDF claims to be facing an unprecedented financial crisis, and as a result has canceled a number of training operations recently; but the claims have been questioned by the Finance Ministry.

Related stories:

Speaking at the event, Gantz adumbrated on the change in the IDF's training plan, and warned of the dangerous implications it could have: "We planned a small and specialized reserve formation plan in line with the IDF's operations outlook. (But) national priorities change and with it decisions taken in the past, and this could have dramatic consequences.

"We will not give up and we will bring this to the attention of decision makers. I will not allow soldiers to be the hostages of the argument (regarding the budget), or allow them to use as bargaining chips."

Reservists present at the event slammed the drop in training – which serves as an additional source of income for many Israelis – and a senior commander confirmed that cancelation notices for the next two months have already been sent out.

Major (res.) David Katz, a combat soldier who received a citation for excellence during the event, turned to the stage and addressed the IDF top brass, saying "training is no longer counted in days, but hours. Without enough time to train we will not be able to fulfill our duty, no matter how good we are… history will not forgive us."

Defense Minister Moshe Ya'alon recently told the government that "the money is gone" and requested NIS 2 billion, which the military claims is needed immediately to continue basic operations.

The Finance Ministry initially denied Ya'alon's request, and claimed that military spending has reached a record high in 2014. A similar request by the defense minister for NIS 2.75 billion was fulfilled by the Finance Ministry in October of 2013 with the understanding that no additional funds would be needed for the whole of 2014.

According to the International Institute for Strategic Studies, Israel's military expenditures in 2013 amounted to $18.2 billion including funds received from the US, making the IDF the fourteenth most expensive military in the world.