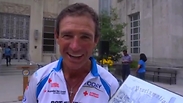 An Australian ultra-marathon runner completed a 1,500-kilometer (900-mile) "Middle East Peace Run" with a final stop in Jerusalem on Monday.

Pat Farmer, 52, reached the finish line Monday afternoon capping a journey that began on May 1 and took him to Lebanon, Jordan, the West Bank and Israel.

A cheering crowd awaited Farmer as he arrived at Jaffa Gate, a landmark entrance to Jerusalem's Old City. Farmer said he hopes his endeavor will help promote peace and tolerance in the region.

Related stories:

"I've come here because I want you to know and understand that there are people on the other side of the world that care about you and they care about your families," he said.
Controversy
Farmer, a father of two, was accompanied by a traveling support team that included his daughter Brooke. He arrived in Israel as part of a 20-day run for Mideast peace on Friday.
However, controversy surrounded the runner's journey through the State when a group of Israelis who were supposed to participate in the run together with Palestinians, were asked to refrain from taking part while passing through Jewish communities as to not offend the latter group's feelings.
The group of Israelis was assembled by the Yesha council along with the Zionist organization Regavim, and when they arrived to join in they were asked to stop running after only one kilometer.
The request, a press release by Regavim claimed, came from the Palestinian Olympic Committte in Ramallah, who threatened that they would cancel their participation if Farmer continued to run with the Jewish group when passing Jewish communities in the West Bank.
Commenting on what he called a "no-Jew policy" that the Palestinians pursued, Avi Briggs, director of Regavim and part of the Israeli group of runners, said: "It's very sad that the Palestinian Authority would sooner attempt to hide the 375,000 Jewish residents of Judea and Samaria, instead of throwing their support behind a genuine attempt to promote peace and coexistence".
Running for peace
Farmer, a 52-year-old Catholic and a single parent to two children, began his journey more than two weeks ago, running through Lebanon, Jordan, Israel and the West Bank in a bid to promote tolerance and peace in the Middle East.
In 2012, Farmer participated in an ultra-marathon from the North Pole to the South Pole. This time he set a different kind of challenge for himself: A 1,600-kilometer (995-mile) run through various Mideast countries, accompanied by other runners, adults and children from different countries, nations, religions and communities.
Farmer embarked on his run in Beirut, Lebanon. After passing through Amman, Jordan, he crossed the border to the southern Israeli city of Eilat. In Israel he ran through Mitzpe Ramon and was greeted in a ceremony in Beersheba, before moving on to Sderot, Ashkelon and Tel Aviv, where another ceremony was held.
He arrived in the northern city of Haifa on Friday and is expected to reach Jerusalem on Monday for the closing ceremony. The event, which will be held at the Jaffa Gate, will be attended by Australian Ambassador to Israel Dave Sharma.
Farmer, who served in the past as a parliamentary secretary and the shadow minister for youth and sport in Australia, believes that his journey will inspire and strengthen the resolve all the people seeking peace in the Middle East by showing one person's efforts to overcome all obstacles, connecting the positive values of sport to a historic event, empowering children and educating for inclusiveness, tolerance, responsibility and non-violence.
Farmer said he decided to show the beautiful landscapes and positive sides of the places he chose to run through. "When you see anything about the Middle East, including Israel, it's nothing but violence, nothing but the problems and difficulties everyone's having over there, which is completely contrary to what I've heard from my friends who live in the Middle East.
"There's a commonality between human beings all over the planet, so I think if I can portray that, then I can get a message to people worldwide: We're all human beings. We're the same regardless of our geography."