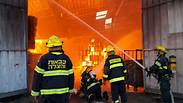 Firefighters at the storage facility
Photo: Ayalon Fire Department
A fire broke out at a storage facility in moshav Beit Nehemia on Tuesday morning, claiming the lives of two Palestinian workers, who are possibly in the country illegally.
Two bodies of men, one of them in his forties, were found when the fire was out. Police suspect the two were part of a group of illegal workers sleeping at the storage facility.
The cause of the fire remains unclear. Police held the storage facility's renter for questioning. An initial inspection found that the structure did not pass a safety inspection by the fire department.
Police is also investigating whether the Palestinian workers at the storage facility are legally employed in Israel or not. If they lack the proper documentation, the storage facility's renter will also be questioned under suspicion of employing and housing illegal aliens.
A 25-year-old man tried to escape the fire by jumping from the second floor, breaking both of his legs. He was taken to Beilinson Medical Center in Petah Tikva in light condition for further treatment.
"At around 5 am we received a call about a big fire at a storing facility. When we arrived at the scene, we noticed a young man in his 20s who managed to escape the building with injuries to his legs and suffering from smoke inhalation. He told us that there were two other men who couldn't escape the fire inside the storage facility," a Magen David Adom paramedic said.