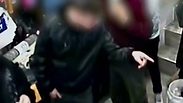 Four young men accused of posing as an attractive Jewish woman on Facebook with the purpose of baiting Arab men were indicted recently at the Jerusalem District Court. The Arab victims believed that they were meeting an interested young woman, but were instead met with beatings from the boys.

The youths were caught by police after appearing on the security camera at the site of one of their alleged attacks.

Attack in the store caught on security cameras (דוברות משטרת ירושלים )

Haim Gamlieli, 24, was the alleged leader of the gang and according to the indictment against him, managed several groups on WhatsApp as well as a Facebook page over the last several months, under the title "Jews Against Miscegenation".

"We are a very right-wing group made up of a few friends who hate the fact that Arabs hunt Jewish girls," Gamlieli wrote in the WhatsApp group using the fake name "Yossi Cohen".

Related stories:

Gamlieli requested that members report instances of Arab men making sexual advances upon Jewish women to the group. A Facebook page was also created where "Yossi Cohen" appeared again, advertising the name and phone number of the Arabs implicated by reports in the WhatsApp group.

"The guy's name is Adam from Abu Gosh and his phone number is *********," wrote Gamlieli on one such Facebook post, "So whoever cares about Israeli women should do good, clean work."

Another of the Facebook posts was slightly more specific in its insinuation, suggesting that group members call the accused Arab to harass him verbally. However, Gamlieli's goals eventually gained a violent edge.

"Then we opened a Facebook profile under a Jewish, female name with a picture of an attractive girl and she is attracting a lot of Arabs," Gamlieli wrote to his group. "We arrange a place, then these terrorists meet us and besides a beating, they don't get anything."

The other boys accused of carrying out the attack are all 16 to 17 years old. They admitted to taking part in the beating of the Arab who worked at a luggage supply shop where Gamlieli had once threatened a man. Gamlieli then named him on his Facebook page and posting his picture.

The boys identified the Arab and said that their motivation for the attack was simply that, "the luggage salesman is an Arab."

The man they assaulted told Ynet, "36 years I'm here in this neighborhood. This is the first time anything like this has ever happened. No one has ever attacked me or cursed at me."

"A few days before they beat me, they came to the store and told me not to speak to the customers. I said that I work here and that I have to. Then they came the second time," he continued.

"They came behind my back and gave me a big hit in the back. I turned around to see who it was and I tried to protect myself. Three attacked me and beat me inside the store. I tried to get away from them. I wanted to get up from the floor, but I couldn't."

"People looked at them from outside and no one came to help me. My body and my heart are still in pain when people go by me and point at me."

The victim added, "I don't know why they did this to an old man, what's the difference between a Jew and an Arab? I hope that they will be punished and that others will learn not to do these kinds of things."

"They caused me a lot of harm. I'm a grandfather with grandchildren and young men come to beat me... it's not easy. I'll remember this all of my life."