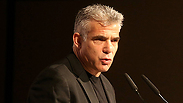 Finance Minister Yair Lapid
Photo: Nimrod Glickman
The defense establishment was rebuffed by the Finance Ministry only a few hours after IDF Chief of Staff Lieut. Gen. Benny Gantz announced the cancellation of all further reservist trainings.

A source told Ynet that not only would the Finance Ministry refuse to authorize a cash injection for the defense establishment, but that it would recommend further cuts in future discussions of the 2015 budget.

The source commented on an estimate released by the Bank of Israel on Monday, which said the government would have to cut ministries' budgets and raise taxes totaling 18 billion shekels for 2015.

"This makes an injection of funds for defense impossible. In a situation where you need to pare down, every dollar for defense will come at the expense of other ministries – who already have to make their own cuts."

According to the source, not only would the defense not receive the additional funds it wants, but it would also have to share in the burden of the government's cutting costs.

"It is only fitting that the ministers will take the position that the Defense Ministry cannot avoid sharing the burden. This government has a significant civil agenda and it is not appropriate that the entire burden falls on the transportation and education budgets."

Related stories:

The source noted that the Finance Ministry had yet to settle the figures for 2015, but that that it was clear the Bank of Israel numbers were not accurate and the final figure would be smaller than the 18 billion shekels previously mentioned.

When asked about future cuts to the government, the source said that was a misperception and the budget would actually increase by a few billion shekels – but the administration had made decisions which result in financial expenses even beyond the amount of the increase.

Earlier on Tuesday, Defense Minister Moshe Ya'alon responded to the cancellation of IDF reservist training: "The IDF is in financial distress which is not new; the figures were presented to the cabinet at the beginning of the year.

"The defense budget is not the biggest one, but it is growing smaller. We will not call up reserves even for operational activity."

IDF Chief of Staff Lieut. Gen. Gantz also addressed the cancellation. "This is not trick and no shtick. I am very concerned. The IDF is in the service of the people, not the other way around. We will make every effort to secure the safety of Israeli citizens no matter the circumstances."

Yoav Zitun contributed to this report.