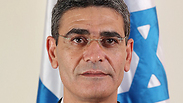 A car belonging to Nasser Abu-Taha, Israel's first Bedouin judge, was set ablaze early Wednesday morning outside his home in Omer, near Be'er Sheva. Police have opened an official investigation.

"This is a sensitive investigation," said a police spokesperson. "The motive is still unclear. The judge himself doesn't know if the incident has any connection to his work. No one has made any threats against him and he hasn't received any messages or anything of the sort that express any intention to harm him."

"At the same time, this is a judge who's dealt with emotionally sensitive cases, and this investigation will receive top priority," concluded the spokesperson.

Justice Minister Tzipi Livni responded to the news of the vandalism saying, "I spoke with Judge Abu-Taha this morning. The first sentence he said to me was, 'This won't deter us.' He's right. I would advise that criminals abandon the illusion that they will be allowed to discourage, threaten, or influence a judge in Israel."

"The new laws that we presented to the Knesset to aid in the fight against organized crime, will give law enforcement effective tools for their task of defending the safety of our civilians and our law," said Livni.

Police commander of the Levi District said that the case would be given top priority. According to him, "This is an irregularly extreme and severe act. Any harm or threat to the foundation of law and justice is a dangerously severe step, and we will act using all tools at our disposal to find the culprits."

Abu-Taha deals with cases of those already behind bars and among his other duties decides when prisoners may be released or kept in prison. Attorneys describe him as a decent and likeable, but emotional judge. Abu-Taha was assigned a personal security team for a short term in the past due to threats against him.

Attorney Ori Bar Natan was surprised to hear that the Judge's car had been vandalized. "He is one of the most respected judges, and shows great courage in his work. He knows when to order a prisoner's release even in complicated cases."

"He is a humane judge, so that when he decides to extend a prisoner's sentence, he explains his decision to the accused as equals," said Natan.

Head of the Omer community council Pini Badash said, "I don't think that this event scared him. He is a seriously determined man. At the same time, this was a difficult and worrying incident. The people behind the vandalism are criminals who don't refuse to use any means."

"I have no doubt that the police will catch the culprits. This is an incident that's hard to prevent, especially if there is no previous knowledge of any threat," said Badash.